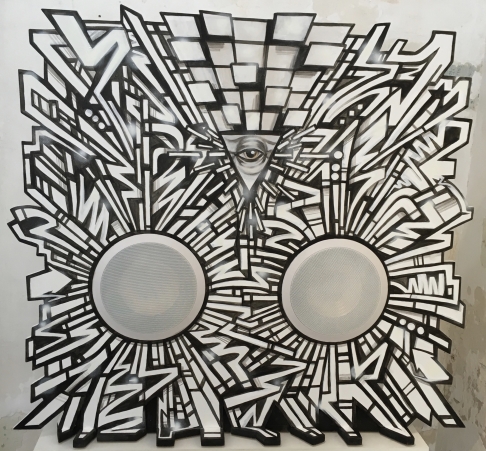 Audiowood
Sonoscene 2
2016
Sonoscenes combine one-of-a-kind artwork and high-quality stereo audio. These stereo/artworks are the result of several years of research finding and designing the best speaker and amplifier components that would allow for integration into unique artworks. Sonoscenes are available with integrated stereo speakers and also have the option of including an audiophile grade (Gain Clone) integrated amplifier with three inputs and a subwoofer output. The amplifier is specifically designed for this application, so only two small control knobs are visible on most Sonoscenes. Each Sonoscene is a unique artwork. These art/audio pieces are available in either wall-hung or console models, but fully custom versions are available as well. And Sonoscenes can feature almost any imaginable form of artwork, from portraits to graffiti, to 3D constructions. Almost anything is possible. Sonoscene 2 is the second collaboration between artist Meek of Topmob and Joel Scilley of Audiowood. As it stands, it is essentially a pair of stereo speakers that can be used with most amplifiers. As suggested above, it can be fitted with an integrated amplifier for $1200.00 extra, making it into a standalone audio system. This Sonoscene is a tabletop construction, designed to be placed on a console table or the like. Its footprint is approximately 40"H x 40"W x 12"D
Plywood, wood, mdf.
40"H x 40"W x 12"D
Shipping cost: $250.00

I'm a designer and woodworker.
I was born and raised in suburban Florida. After high school I got as far away from malls and subdivisions as possible, studying the arts - visual art, design, architecture, literature, aesthetic theory - in Western New York, New York City, and Europe. I almost became an architect, almost became a professional academic, and almost became a non-profit civil rights worker. I earned degrees in Art History and English (BA, Hobart), English (MA, Carnegie Mellon), and Media Studies (Ph.D., Pitt). Somewhere along the way, the desire to make things with my hands took over, and I shifted away from academic issues towards the production of physical objects.
Since 1997 I've worked consistently as a design and build carpenter/woodworker. In 2008 I started building handmade audio equipment, which I make under the name Audiowood.
I think of most of my works as small acts of architecture: things that stand on their own, and that suggest an entire way of living. I picture each of my products standing alone in a big, all-white loft in New York City; woody, but not necessarily woodsy.
Since 2008, I've had the privilege of working with clients like Anthropologie, Bushmills, Paramount Pictures, and various A-List celebrities.  Audiowood products have been featured in dozens of major international publications like The New York Times, Wired (Germany), California Home and Design, and Velvet (Italy), and online from Gizmodo to DesignBoom to Metal and dozens of other blogs.  Locally, I was named a "Person to Watch" by New Orleans Magazine, was awarded the "Most Unique Work" award in Contemporary Crafts at the 2015 and 2018 New Orleans Jazz and Heritage Festival, and most recently, won "Best in Show" at the Green Project's Salvations show of furniture made from reclaimed materials.  
I've lived in the Lower 9th Ward and the 7th Ward, and currently live in the Lower Garden District.
NEW ORLEANS
Meet the Artists
Local art is the lifeblood of our culture and communities. We source work from hundreds of painters, muralists, sculptors, metal workers, printmakers, illustrators, photographers, and textile artists, every one of whom is part of your local community.

Create your Account
With an account you can save favorite works, create collections, send messages to artists, store your shipping info, and more
---
Already a member? Sign in here

;