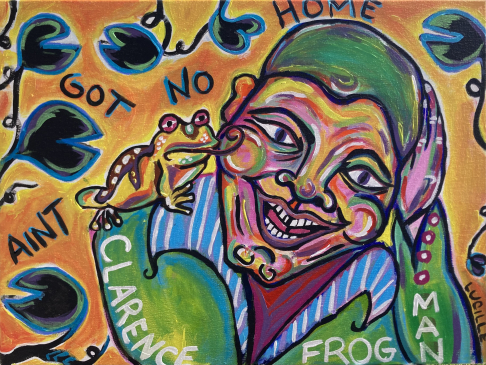 Lucille Blues
Clarence "Frogman" Henry
2021
Clarence "Frogman" Henry, still alive today. Singer and Pianist from Algiers. 
Acrylic on Canvas.
18" x 24"
Shipping cost: $50.00

I grew up in the Pacific Northwest. My influences and passions in life were formed from my upbringing; the love for art and supporting people with different abilities. My Father was a longshoreman and my Mother works with people with developmental disabilities and is also an artist (but she doesn't think so). My Dad has been gone for about 13 years now, but he raised us kids on Jazz music. I started getting into music in the 9th grade when I got my first record player for Christmas. Since then I have loved old music; especially, blues, soul and old country. My Father passed away by surprise at age 20; after that, I picked up a paintbrush and started painting. I learned to turn my feelings of sadness into something positive like tangible, colorful paintings. Kinda like how Blues music started from pain.
I studied Art Therapy in college and moved to Minnesota, where my roots are. There, I worked with adults with exceptionalities. We worked together on an Organic farm, and I also taught art to my clients every day.  I was already planning on moving to New Orleans and soon  packed up my 88' Volvo and headed down south in August of 2016. I spent a month in Mississippi before I moved to New Orleans. I was in love; I finally got to be where I dreamed of being; the place which inspired my artwork. For years, even before I moved down South, my style has been very folky with lots of colors, which has always encompassed that New Orleans spirit.
I own a home in the Lower 9th Ward, a block from the levee. I teach at Special Education in Jefferson Parish and also waitress two days a week. On my free time, you can find me getting in the swamps or  visiting gravesites of dead blues musicians in Mississippi. I have a baby boy on the way! 
NEW ORLEANS
Meet the Artists
Local art is the lifeblood of our culture and communities. We source work from hundreds of painters, muralists, sculptors, metal workers, printmakers, illustrators, photographers, and textile artists, every one of whom is part of your local community.

Create your Account
With an account you can save favorite works, create collections, send messages to artists, store your shipping info, and more
---
Already a member? Sign in here

;