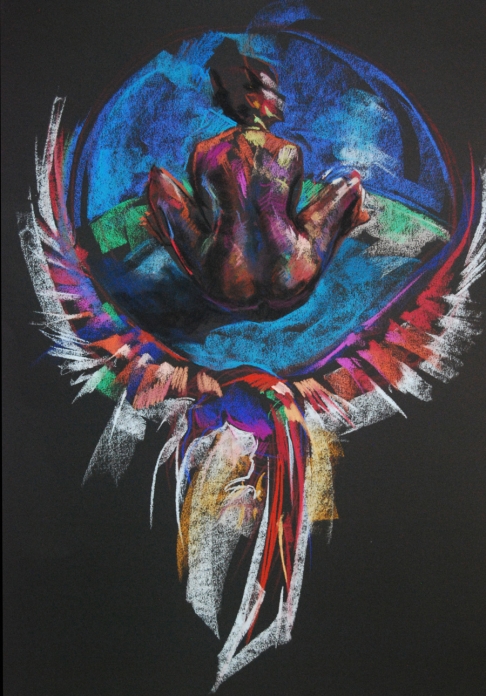 Aiye Titun (A New Earth)
2015
This beautiful pastel drawing is an homage to womanhood, nature and a wish for a new earth where nature and humanity are in balance and in harmony. Unframed. We work with an excellent framer and strongly advise framing before shipping. Buyer is responsible for shipping costs, which will be calculated for sale.
Original - Pastel on archival paper
30" x 22"
Shipping cost: $0.00

My primary concern is to create pieces that have a good strong structure. I begin by building basic rhythms throughout my composition and then improvise on those rhythmic patterns, changing them as I go along. Spontaneity is a must. I approach an empty surface in the same way a jazz musician approaches a saxophone. My paintings are my solos which I try to make as funky as possible.
I knew by the early age of six that I was going to be an artist. During my teenage years, my love of childhood comics matured into full-scale murals. In 1988, I graduated from the School of the Art Institute of Chicago where I majored in painting and drawing. I then went on to create collaborative community murals with Chicago Public Art Group, helping to restore and beautify Chicago's urban landscape. Over the years, I have fabricated over 18 national public art monuments. Some major multimedia installations I have completed can be found at Indianapolis, Philadelphia & Denver International Airports, the Denver Performing Arts Complex, the Aurora Municipal Center in Colorado and the Tangipahoa African American Museum.
My paintings/assemblages have been commissioned for festival posters, children's books, album covers, t-shirts and can be found in numerous national and international private collections. I draw from my African American heritage and world mythologies to create my art, which I see as a positive contribution to human society.
For the past 4 years, my wife and I have had a home on Magazine Street at the Garden District Marketplace (GDM) which we closed out at the end of March. In the aftermath of Covid, despite hanging on for 2 years in a disastrous retail climate we were finally outdone by rising real estate costs and had to close our physical gallery space. Yet change brings about new and exciting opportunities. During our Covid hiatus we revamped our website www.akinlana.com it will always be a work in progress with all that we do, but when you have a minute check it out, there's a decade's worth of art, activism, music and creative explorations there for you to enjoy. 
For the past two years I have continued to develop my other creative passions; particularly my music, I have had numerous exciting collaborations with other creative giants and continues to perform both digitally and in person around New Orleans,  I was just live on stage with Khari Allen Lee and the New Creative Collective at last month's Jazz and Heritage Festival. One of my current projects "The Maroons" have just had their music showcased on NPR Music's Live Sessions https://livesessions.npr.org/videos/marcus-akinlana-the-maroons-egun-ara-ebora-medley
In order to keep expanding and thriving we are learning how to become more social media savvy. If you love what we do and want to continue to support the dream, please get digital with us.
Follow us on: https://www.instagram.com/marcusakinlanaartnmusic/
https://www.facebook.com/Marcus-Akinlana-Positive-Creations-Fine-ArtsWON-Mural-Society-186200899469
https://www.youtube.com/channel/UC7TqxxXp7yoE6uxRmbwynxg
https://twitter.com/MarcusAkinlana
NEW ORLEANS
Meet the Artists
Local art is the lifeblood of our culture and communities. We source work from hundreds of painters, muralists, sculptors, metal workers, printmakers, illustrators, photographers, and textile artists, every one of whom is part of your local community.

Create your Account
With an account you can save favorite works, create collections, send messages to artists, store your shipping info, and more
---
Already a member? Sign in here

;