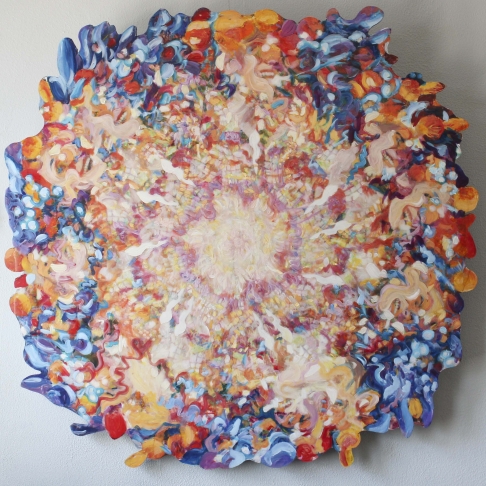 Laughing Mandala in 5-7 Time
2017
Laughing Mandala in 5-7 Time is the second in a series of mandala paintings. I made this composition at the same time as "Laughing Mandala 5-7-8" and decided to bring both of them to completion, even though they are similar. This piece reveals its underlying geometry more than its sister piece. The underlying collaged image is tessellated into a pentagon and heptagon and then merged together, setting up an off-kilter rhythm that dances around the center and aligns at the top. I think of how these interlock as kin to unusual music time signatures (in this case, 5-7 time. I transfered this composition onto the panel using gel medium, painted over it, coated it with 1/8" of resin, and completed it with a final layer of gestural painting. The end result has layers of depth and glossiness.
Gel transfer, acrylic, and resin on birch panel
40" x 40"
Shipping cost: $250.00

I am a New Orleans and Minneapolis-based artist from Lafayette, LA. I studied art at Brown and RISD, graduating from Brown in  2013. I moved to New Orleans after graduation, where I practiced art alongside a career in graphic design, community engagement, and architectural design. I've shown my in galleries in south Louisiana and Mississippi. Currently, I am pursuing an M.Arch and an MLA degree at the University of Minnesota in Minneapolis. My art work is inspired by the patterns in nature and the manner in which our minds filter, remember, transform, and represent our experiences.
NEW ORLEANS
Meet the Artists
Local art is the lifeblood of our culture and communities. We source work from hundreds of painters, muralists, sculptors, metal workers, printmakers, illustrators, photographers, and textile artists, every one of whom is part of your local community.

Create your Account
With an account you can save favorite works, create collections, send messages to artists, store your shipping info, and more
---
Already a member? Sign in here

;