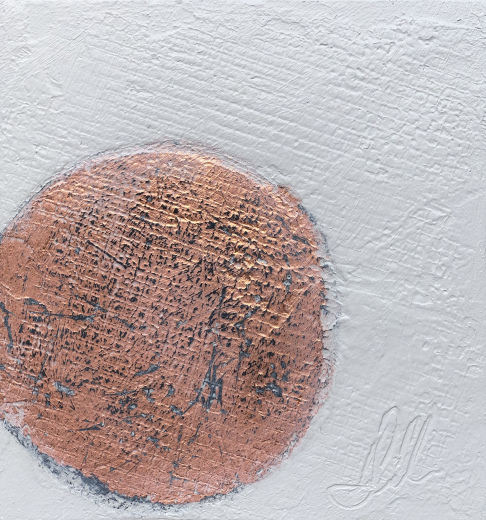 Orbis4
2020
Inspired by all things planetary.
Copper over gray acrylic with white background.
6.5" x 6"
Shipping cost: $10.00

In 2010 I graduated from the University of New Orleans with a Bachelor's in Fine Arts.  After college, my journey brought me down many paths and in 2014 one of those paths led me to a special opportunity.  I began to work with George Dunbar.  Since then, I have been adding to my toolbox of knowledge - learning new materials, techniques, and processes - adopting and adapting them to become my own. 
Texture is the heart and soul of my current body of work. Textural characteristics can be found among the gilded structural elements of wood, string, and other collected objects.  My artwork can be found in private collections and has been featured in numerous juried shows - including the 2018 Ogden Museum of Southern Art's "Louisiana Contemporary" show where only 25 artists were selected from the entire state.
KENNER
Meet the Artists
Local art is the lifeblood of our culture and communities. We source work from hundreds of painters, muralists, sculptors, metal workers, printmakers, illustrators, photographers, and textile artists, every one of whom is part of your local community.

Create your Account
With an account you can save favorite works, create collections, send messages to artists, store your shipping info, and more
---
Already a member? Sign in here

;