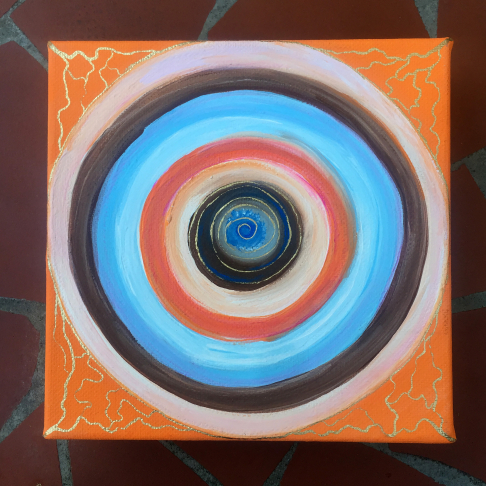 Orange Meditation
2018
Acrylic on canvas with gold leaf pen embellishments
6" x 6" x 2"
Shipping cost: $10.00

My artistic journey has taken me from performing artist to visual artist in the most unlikely ways. I originally moved to New Orleans to get a degree in music. Unexpected circumstances led me in quite a different direction. After changing my major to graphic design, I signed up for an intro class in printmaking. It was a hands-on version of what I planned to do on a computer. As the art department put my chosen major on a short hiatus, I kept with printmaking and continued to learn new techniques. When the graphic design program returned, I had already gained such an appreciation and love for the hands on creative process and a certain affinity for the smell of an old-fashioned print shop, that I decided to complete my degree in printmaking. Graduation is a faint memory now, but I continue learning new things about my medium each day.
Much of my work is intuitive, so any particular piece can be emotionally-driven or meditative in concept.  I enjoy experimenting and combining mediums. I'm also known to obsess over certain imagery and create several versions of one thing.  Of course, this directly competes with my "printmaker mind" and the idea of exact multiples, but it is something I'm working on in my evolution as an artist.
NEW ORLEANS
Meet the Artists
Local art is the lifeblood of our culture and communities. We source work from hundreds of painters, muralists, sculptors, metal workers, printmakers, illustrators, photographers, and textile artists, every one of whom is part of your local community.

Create your Account
With an account you can save favorite works, create collections, send messages to artists, store your shipping info, and more
---
Already a member? Sign in here

;