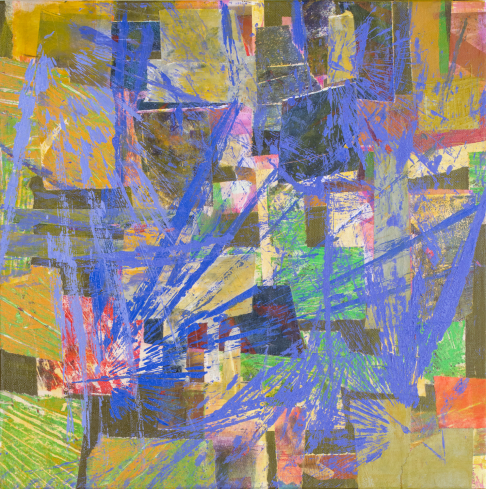 Collage I
2021
Part of a collage series 
Painted paper and acrylic on canvas
16" x 16"
Shipping cost: $75.00

For me art making is about learning to follow my own intuition and to trust the process. Shapes and colors found in nature, fashion, the human form, ancient architecture, and negative spaces inform my painting and color choices.
In art and art history classes in high school and college, I was especially taken with works from the ancient world and the 20th century - both eras feature deconstructed shapes and abstraction, which is still what I am most interested in seeing in art and creating in my own. One of my earliest art experiences was making blind contour sketches, and that practice has stayed with me.
After teaching school in the Bay Area and New York, I moved to New Orleans in 2006. Starting about 10 years ago I took several classes at the Academy of Fine Art, reminding me of my interest in art-making, and it has been a part of my life and practice ever since.
I live in New Orleans with my husband Matt, our three teenagers, a dog and two cats.
Photo: Harlin Miller @harlinmillerjr
NEW ORLEANS
Meet the Artists
Local art is the lifeblood of our culture and communities. We source work from hundreds of painters, muralists, sculptors, metal workers, printmakers, illustrators, photographers, and textile artists, every one of whom is part of your local community.

Create your Account
With an account you can save favorite works, create collections, send messages to artists, store your shipping info, and more
---
Already a member? Sign in here

;