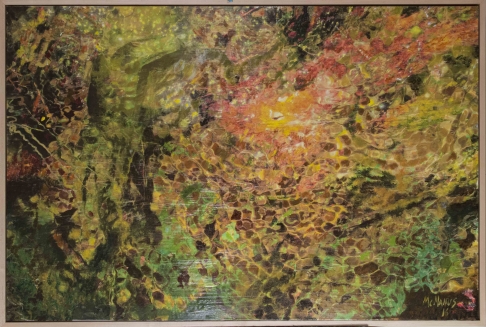 Familial Spring
2016
My great grandfather bought some land in Kisatche before it became a national forest. Occasionally we visit these acres in the heart of the woods. In the center of the parcel, there is a natural spring that eddies up through the rock. A metal mug tied to a fallen log by string sits waiting for our family members to take an unfiltered swig of our familial water. Reams of glowing algae garnish the shallow creek that flows from the spring over Kisatche's orange clay. Plants, fish, and airborne visitors savor this pure, perpetual source of life. The whole scene seems improbable - clean water coming right up from the dirty ground. My uncle Jay catching it in that mug and gulping it down. This piece is based on the imagery and colors of this shallow spring in Kisatche.
Giclee and acrylic on birch panel
32" x 48"
Shipping cost: $250.00

I am a New Orleans and Minneapolis-based artist from Lafayette, LA. I studied art at Brown and RISD, graduating from Brown in  2013. I moved to New Orleans after graduation, where I practiced art alongside a career in graphic design, community engagement, and architectural design. I've shown my in galleries in south Louisiana and Mississippi. Currently, I am pursuing an M.Arch and an MLA degree at the University of Minnesota in Minneapolis. My art work is inspired by the patterns in nature and the manner in which our minds filter, remember, transform, and represent our experiences.
NEW ORLEANS
Meet the Artists
Local art is the lifeblood of our culture and communities. We source work from hundreds of painters, muralists, sculptors, metal workers, printmakers, illustrators, photographers, and textile artists, every one of whom is part of your local community.

Create your Account
With an account you can save favorite works, create collections, send messages to artists, store your shipping info, and more
---
Already a member? Sign in here

;