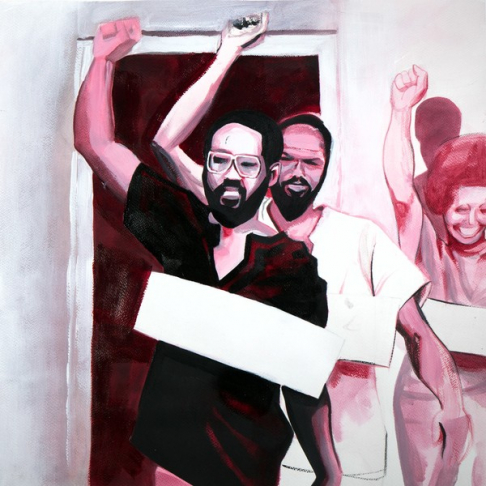 Kalamu ya Salaam
2018
Since he started writing nearly five decades ago, New Orleans author Kalamu ya Salaam has never stopped expressing himself - in cultural essays, political essays, articles, poems, plays, music and such books as "The Magic of JuJu: An Appreciation of the Black Arts Movement," "360: A Revolution of Black Poets" and "Everywhere Is Someplace Else: A Literary Anthology." In the 1960s, he and Tom Dent emerged as key figures with the influential Free Southern Theater, a traveling dramatic company that performed racially themed works for audiences in economically depressed parts of the South and which gave rise to BLKARTSOUTH, which was created to develop additional literary and theatrical material. A social and political activist, Salaam -- whose name translates to "pen of peace" -- has turned out a long list of works that focus on the African-American experience and show its relationship to, and place in, the overall community.
Acrylic paint, Archival paper, Charcoal
24" x 24"
Shipping cost: $50.00

"Stories are the creative conversion of life itself into a more powerful, clearer, more meaningful experience. They are the currency of human contact." - Robert McKee
Stories have been shared in every culture throughout history as a means of entertainment and education, and for the transformation and passing on of traditions. Storytellers are revered figures throughout history because of the magical mystique of the tale they share through their voices and minds.
I too am a storyteller, although I share my tale in a different way. I use visual narrative as an avenue to express my feelings and relate to the world around me. My hope is for the work to span cultural barriers and be accessible to any audience.
Every person goes through an array of emotions in their daily lives: love, anger, happiness, joy, and sadness. These emotions tie us together as human beings. I strive for the viewer to deepen their gaze, connect with a part of the narrative, and experience an emotional journey.
Jeremy Paten is a New Orleans artist living and working in the Uptown neighborhood.
NEW ORLEANS
Meet the Artists
Local art is the lifeblood of our culture and communities. We source work from hundreds of painters, muralists, sculptors, metal workers, printmakers, illustrators, photographers, and textile artists, every one of whom is part of your local community.

Create your Account
With an account you can save favorite works, create collections, send messages to artists, store your shipping info, and more
---
Already a member? Sign in here

;