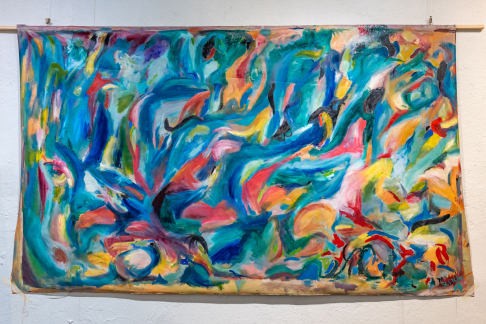 The Ascension
2021
Oil on Canvas
84 x 52 inches
Shipping cost: $200.00

I am a contemporary American Painter. A life force of energy in motion fill my paintings known by their bold originality, vibrancy and exquisite use of color. The inspiration of my abstract mark making is rooted in questions of existence, happiness, and human potential. Themes of love, healing, spirituality, and mortality are intertwined in the stroke work through a language of symbolism. My paintings challenge traditional ideas of truth, beauty and abstraction. 

I began painting as a therapeutic tool after enduring traumatic life experience in January 2020. Since then, I have painted over 2000 original works of art. I am published in Antenna Signals and Delgado Images magazine, interviewed by the Artifications podcast, and hosted as a guest lecturer in Art Entrepreneurship at Paier College and Fairfield University. I opened my first studio in January of 2022 in the French Quarter of New Orleans. 
In the Summer of 2022, I took sabbatical with a private residency in Loches, France and Sardinia, Italy developing a representational body of work for the first time. The latest focus of my art is combining realism with abstraction while expanding my collection of large scale paintings.
I am currently exhibited at the Sunday Shop in New Orleans featured as an artist in residence. In June 2022, I was commissioned for a multinational brand collaboration. I have sold over 200 works of art independently, now held in private collections internationally- 14 countries and 38 states. 
NEW ORLEANS
Meet the Artists
Local art is the lifeblood of our culture and communities. We source work from hundreds of painters, muralists, sculptors, metal workers, printmakers, illustrators, photographers, and textile artists, every one of whom is part of your local community.

Create your Account
With an account you can save favorite works, create collections, send messages to artists, store your shipping info, and more
---
Already a member? Sign in here

;