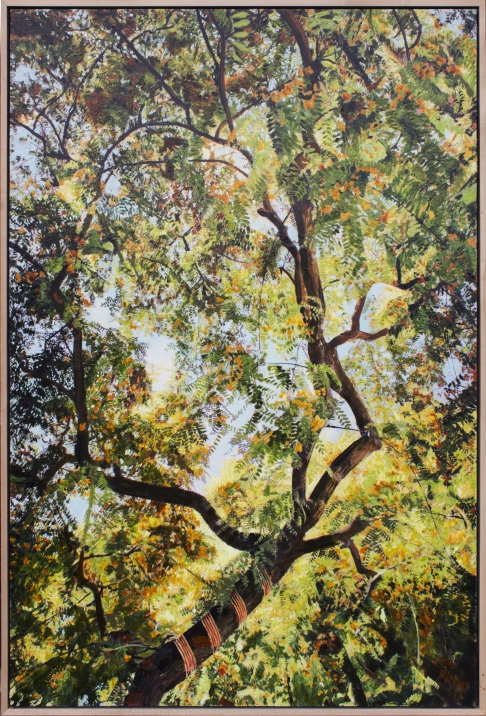 Tipu Tree
2015
The Tipu Tree, also known as Tipuana Tipu or Rosewood, is a South American tree of a genus all to its own that lines the streets of Barcelona, Spain. Incredibly graceful and elegant, these trees tower over the grid of mostly 6-story buildings that stand shoulder to shoulder. They provide shade over the front balconies characteristic of Barcelona, and in early summer, they blossom small golden flowers that lend the street below a mystical glow. When I visited in early June of 2015, I stayed on one such street in the medieval part of the city. These trees colored our visit, and those little flowers carpeted the sidewalks. When I came upon this particular tree, in a small plaza not far from the sea, I knew at once that I was going to paint it. It's stance, the light, the rope banding its lower trunk, and those little golden flowers, sometimes flashing orange, sometimes yellow. Beholding it was similar to standing inside Gaudi's Sagrada Familia - an utter masterpiece of nature. For that reason this same image is layered into my other piece of the same size: Ascending Current.
Gel transfer and acrylic on birch panel, in a maple floater frame.
60" x 40"
Shipping cost: $300.00

I am a New Orleans and Minneapolis-based artist from Lafayette, LA. I studied art at Brown and RISD, graduating from Brown in  2013. I moved to New Orleans after graduation, where I practiced art alongside a career in graphic design, community engagement, and architectural design. I've shown my in galleries in south Louisiana and Mississippi. Currently, I am pursuing an M.Arch and an MLA degree at the University of Minnesota in Minneapolis. My art work is inspired by the patterns in nature and the manner in which our minds filter, remember, transform, and represent our experiences.
NEW ORLEANS
Meet the Artists
Local art is the lifeblood of our culture and communities. We source work from hundreds of painters, muralists, sculptors, metal workers, printmakers, illustrators, photographers, and textile artists, every one of whom is part of your local community.

Create your Account
With an account you can save favorite works, create collections, send messages to artists, store your shipping info, and more
---
Already a member? Sign in here

;