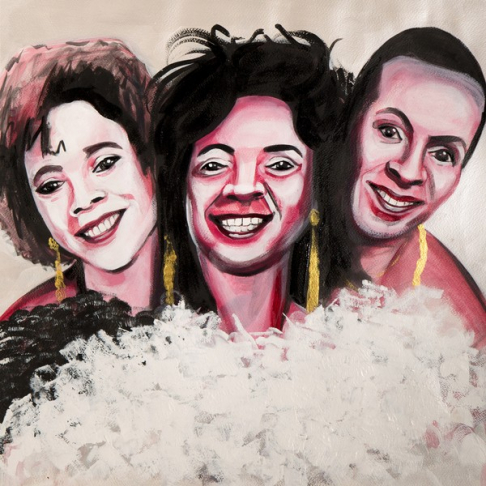 The Dixie Cups
2018
Growing up in a musical family in the Calliope public housing development, sisters Barbara Ann Hawkins and Rosa Lee Hawkins were well-acquainted with the street music of New Orleans. So, when a cousin, Joan Marie Johnson, pitched them on the idea of forming a singing trio for a talent show at St. Augustine High School, they were game. They would lose that contest, but it marked the start of a partnership that would propel them to pop stardom with the chart-topper "Chapel of Love" and subsequent hits including "People Say" and "Little Bell." Their real New Orleans legacy, however, is the song "Iko Iko," a version of a Mardi Gras Indian chant previously recorded by James "Sugar Boy" Crawford and which they remembered hearing their grandmother sing. With its irresistible, percussive beat and lyrics that demand to be sung along with, their rendition would seal their status as one of the most memorable girl's groups of the 1960s, as well as giving the outside world one of its first tastes of Mardi Gras Indian culture.
Acrylic paint, Charcoal, Archival paper
24" x 24"
Shipping cost: $50.00

"Stories are the creative conversion of life itself into a more powerful, clearer, more meaningful experience. They are the currency of human contact." - Robert McKee
Stories have been shared in every culture throughout history as a means of entertainment and education, and for the transformation and passing on of traditions. Storytellers are revered figures throughout history because of the magical mystique of the tale they share through their voices and minds.
I too am a storyteller, although I share my tale in a different way. I use visual narrative as an avenue to express my feelings and relate to the world around me. My hope is for the work to span cultural barriers and be accessible to any audience.
Every person goes through an array of emotions in their daily lives: love, anger, happiness, joy, and sadness. These emotions tie us together as human beings. I strive for the viewer to deepen their gaze, connect with a part of the narrative, and experience an emotional journey.
Jeremy Paten is a New Orleans artist living and working in the Uptown neighborhood.
NEW ORLEANS
Meet the Artists
Local art is the lifeblood of our culture and communities. We source work from hundreds of painters, muralists, sculptors, metal workers, printmakers, illustrators, photographers, and textile artists, every one of whom is part of your local community.

Create your Account
With an account you can save favorite works, create collections, send messages to artists, store your shipping info, and more
---
Already a member? Sign in here

;