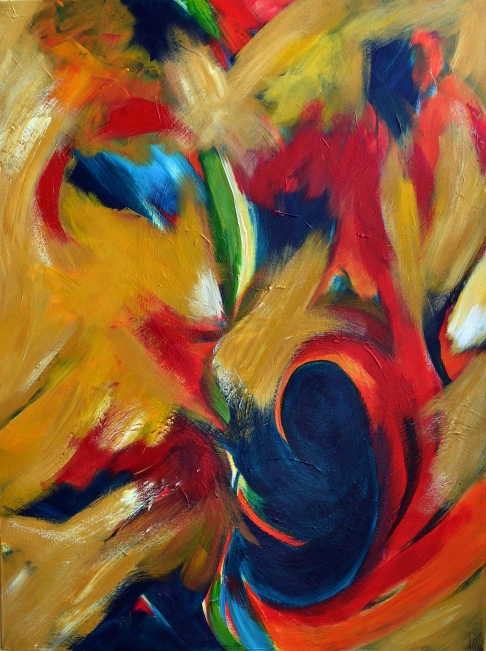 "Marie Laveau VooDoo Queen" Homage to Dr. John
2017
The beautiful Marie Laveau, and yes she was beautiful, was born a Free Woman of Color in 1794 and died an old woman in 1881. She became the most famous and powerful Voodoo Queen of New Orleans and she was respected and feared by all. Voodoo in New Orleans was a blend of West African religion and Catholicism. Voodoo deities are called Loahs and they are closely paired with the Catholic Saints. All people in New Orleans were Catholic and slaves were baptized. Marie was a devout Catholic and attended Mass daily. Marie began as a hairdresser and later became a nurse during the Yellow Fever epidemics. She was skilled in the practice of medicine and knew the healing qualities of indigenous herbs. Concerned about the soul too, she would sit with the condemned in their last moments sometimes serving them their last meal. She was the first commercial Voodoo Queen and she specialized in romance and finance. She was an astute business woman. Marie was all-knowing and all-powerful. She could easily help you get a lover, keep a lover or get rid of a lover. Malcolm John Rebennack (born November 21, 1940), better known by his stage name Dr. John, is an American singer, songwriter, actor, pianist and guitarist, whose music combines blues, pop, jazz, boogie woogie and rock and roll.
Acrylic on canvas
48" x 36"
Shipping cost: $200.00

I call my art "Composing with Color". Everyone hears music differently. The way we perceive art is shaped by our taste and by emotions, situations, and personalities. My canvas is the manuscript on which the notes are painted. I have attempted to have music take on physical colors as it travels through air. My ideal vision would be to create a world in colors as Thelonious Monk created a world of sound.
I am a graduate of The Pennsylvania Academy of the Fine Arts in Philadelphia, PA. I have had solo exhibitions in New Orleans, Los Angeles, Miami and Frankfurt, Germany. I have received a grant from the prestigious Pollock-Krasner Foundation and the Artist Fellowship Inc, New York, NY.
George McClements is a New Orleans artist living and working in the Bywater neighborhood.
NEW ORLEANS
Meet the Artists
Local art is the lifeblood of our culture and communities. We source work from hundreds of painters, muralists, sculptors, metal workers, printmakers, illustrators, photographers, and textile artists, every one of whom is part of your local community.

Create your Account
With an account you can save favorite works, create collections, send messages to artists, store your shipping info, and more
---
Already a member? Sign in here

;