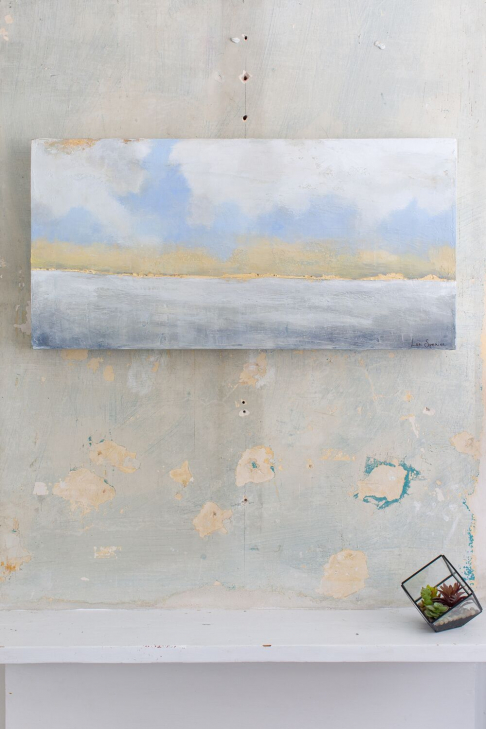 Summer Sunrise Giclee Print
2019
The ethereal, airy, delicate, and atmospheric qualities of my landscapes reveal a whole new world within ours. 
Giclee on fine art paper or canvas. Inquire about custom sizes & pricing.
 $275.00 / Gicleé Paper Print / 36"x18"
$70.00 / Gicleé Paper Print / 18"x9"
$650.00 / Gicleé Canvas Print / 36"x18"

36" x 18"
Shipping cost: $100.00

Raised in Mandeville, Louisiana, I have grown up with a passion for art. I graduated from Louisiana State University in 1994 with a BFA in Graphic Design and a minor in Painting. I worked in advertising for 15 years until I became a full-time fine artist/painter. My work has been exploring abstracts, landscapes & figurative work ranging from small to larger scale canvases.
My figurative process is precise, conversely, my abstract painting is more organic, having only a general idea of what the result will be. My process includes molding paste for texture, layering oil or acrylic on canvas or gesso board, then drawing with compressed charcoal and pencil for greater detail. I often use metal leafing to create illumination, texture, and richness. I love to explore new mediums to keep my work fresh & interesting.
My work is represented by several interior design businesses, along with public and private collections throughout the United States and Europe.
COVINGTON
Meet the Artists
Local art is the lifeblood of our culture and communities. We source work from hundreds of painters, muralists, sculptors, metal workers, printmakers, illustrators, photographers, and textile artists, every one of whom is part of your local community.

Create your Account
With an account you can save favorite works, create collections, send messages to artists, store your shipping info, and more
---
Already a member? Sign in here

;