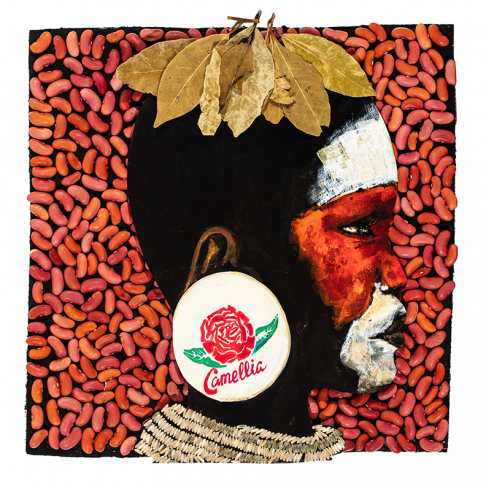 JHand Paints
Soaking My Beans
2019
Traditional on a Monday in New Orleans 
canvas print
12" x 12"
Shipping cost: $20.00

I am a painter and muralist native to and based in New Orleans, Louisiana. Self-taught, I create portraits that amplify the African influence on New Orleans culture, from the city's neighborhood cultural practices to its shot-gun architecture and culinary traditions to the facial features and hair stylings of its residents. My paintings play in the parallels and dissonance between the past and the present to create windows into imagined futures. They investigate the meaning of home for a people who carry both the ancestral memory and lived experience of mass displacement – due to enslavement and Hurricane Katrina. 
My paintings have been exhibited, collected, and published nationally and my murals color neighborhoods throughout New Orleans. From 2014 through 2017, I co-produced the annual Art Madness exhibition, as a founding member of Axiom Art Collective and Gallery.
In 2016, Strahan was named Regional Winner of the Bombay Sapphire Artisan Series during Miami's Art Basel. For her painting "Survived," the Ogden Museum of Southern Art named her Winner and Best in Show for the 2019 Louisiana Contemporary, juried by David Breslin, the DiMartini Family Curator and Director of the Collection at the Whitney Museum of American Art. Strahan's paintings have been exhibited at the Ashe Cultural Arts Center, the Joan Mitchell Center, Lemieux Gallery, the New Orleans African American Museum, the Ogden Museum of Southern Art, and the Rush Corridor Gallery. Her murals include YAM commissioned by the Arts Council of New Orleans; Portrait of George Carter as part of the acclaimed street art exhibition ExhibitBE; Strahan's work has been published in The Times-Picayune/NOLA.com and The Washington Post. 
NEW ORLEANS
Meet the Artists
Local art is the lifeblood of our culture and communities. We source work from hundreds of painters, muralists, sculptors, metal workers, printmakers, illustrators, photographers, and textile artists, every one of whom is part of your local community.

Create your Account
With an account you can save favorite works, create collections, send messages to artists, store your shipping info, and more
---
Already a member? Sign in here

;