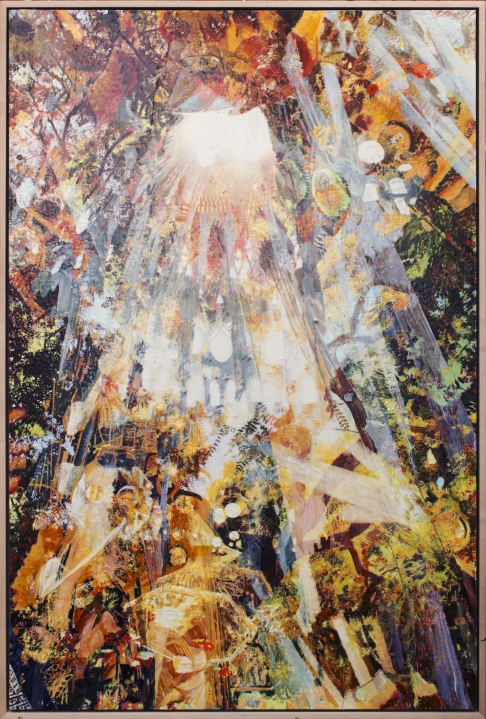 Ascending Current
2015
Ascending Current is a reflection of the state of mind inspired by both Gaudi's Sagrada Familia Church and the elegant Tipu trees in the surrounding city of Barcelona. I am a lover of architecture, and there is no architect who matches Gaudi's artistic and spiritual expressiveness. He drew inspiration from the beautiful Mediterranean ecology around him. He perceived God in the hills, sea, mountains, and trees, even so much as to design this church to be 1 meter shorter than Montjuic Mountain nearby because it would be improper for man's work to presume to surpass God's work. Through photographs of his work you can get a sense of his otherworldly aesthetic, but being in his home city you can peer into his inspiration. One such inspiration is likely the Tipu Tree, which lines many of the city's streets. While I was in Barcelona this summer these trees struck me as possibly the most elegant trees I've ever seen: tall and gracefully branched, they flower yellow in the early summer (the time of year that I was there), casting a mystical ocre shade on the cobblestones below. Moving from beneath this canopy into the forested canopy of the Sagrada Familia, it is easy to find yourself in a fitting sense of awe from the spiritual beauty of the space -- the connectedness of it, the sense that for this building to exist, there must be a 2 way flow of inspiration and admiration: the flow towards a source of oneness, timelessness, and unmoving perfection, and the flow from that source towards all the incredible diversity of life in nature, worldly beauty, and sensuality. Being in his space you feel this ascending current that draws from the beauty of the world to send it back into heaven. No photograph can really give the sense of this, but by layering the Tipu Tree and the view up into the main tower of the Sagrada Familia, I am trying to get at the feeling of that space -- that the divine and the natural are not two. They flow into each other like the water and nutrients flow through a Tipu Tree: from the one trunk to the many leaves, and back again.
Giclee print on canvas. 1.5" Gallery Wrap stretcher bars. Signed. Original was mixed media on birch panel, 60"x40"
32"x48"
Shipping cost: $150.00

I am a New Orleans and Minneapolis-based artist from Lafayette, LA. I studied art at Brown and RISD, graduating from Brown in  2013. I moved to New Orleans after graduation, where I practiced art alongside a career in graphic design, community engagement, and architectural design. I've shown my in galleries in south Louisiana and Mississippi. Currently, I am pursuing an M.Arch and an MLA degree at the University of Minnesota in Minneapolis. My art work is inspired by the patterns in nature and the manner in which our minds filter, remember, transform, and represent our experiences.
NEW ORLEANS
Meet the Artists
Local art is the lifeblood of our culture and communities. We source work from hundreds of painters, muralists, sculptors, metal workers, printmakers, illustrators, photographers, and textile artists, every one of whom is part of your local community.

Create your Account
With an account you can save favorite works, create collections, send messages to artists, store your shipping info, and more
---
Already a member? Sign in here

;