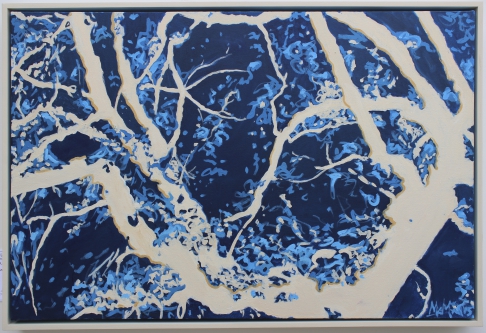 Kanagawa
2014
The sweeping motion of this tree reminded me of ocean waves, and so I took inspiration from the colors in the famous Hokusai painting "The Great Wave at Kanagawa."
Giclee print on canvas. 1.5" Gallery Wrap stretcher bars. Copy of original acrylic on canvas painting.
24" x 36"
Shipping cost: $100.00

I am a New Orleans and Minneapolis-based artist from Lafayette, LA. I studied art at Brown and RISD, graduating from Brown in  2013. I moved to New Orleans after graduation, where I practiced art alongside a career in graphic design, community engagement, and architectural design. I've shown my in galleries in south Louisiana and Mississippi. Currently, I am pursuing an M.Arch and an MLA degree at the University of Minnesota in Minneapolis. My art work is inspired by the patterns in nature and the manner in which our minds filter, remember, transform, and represent our experiences.
NEW ORLEANS
Meet the Artists
Local art is the lifeblood of our culture and communities. We source work from hundreds of painters, muralists, sculptors, metal workers, printmakers, illustrators, photographers, and textile artists, every one of whom is part of your local community.

Create your Account
With an account you can save favorite works, create collections, send messages to artists, store your shipping info, and more
---
Already a member? Sign in here

;