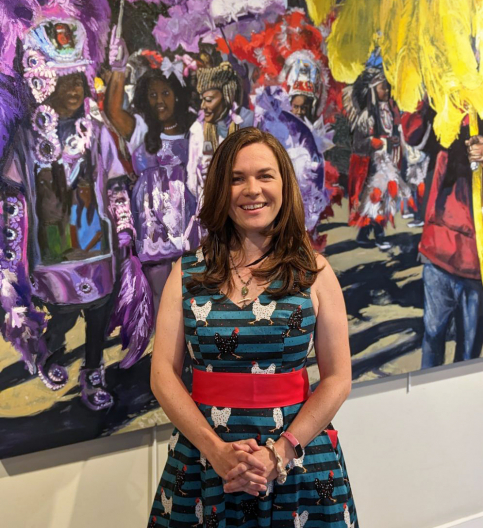 Artist + Stephanie Reed
Stephanie Reed is a New Orleans artist living and working in the 7th Ward.

Questions & Answers
What do you love the most about creating art in New Orleans? What particular part of your immediate environment, in your neighborhood specifically influences your work? An interesting article I once read described New Orleans as a 'City of Accretion' as far as architecture and culture. I think that this notion of layering verses the typical 'gumbo' mixing analogy resonates with me and my painting process. The meaning of the city shifts over many histories and contexts, often with style and time juxtaposed and superimposed upon itself in interesting ways. My paintings are built up of layers of paint, sometimes moved around, scraped off, added elsewhere. This gives them a dynamic and somewhat unstable energy close up, yet they find almost photo-realistic cohesion at a distance. My paint strokes are bold and discrete yet a painting taken as a whole still holds meaning. Like the city, I want my compositions to hold together, yet with the tension of multiple parts that may just fall into chaos.

Describe your creative process. Are there any rituals or rites of passage you exercise before you begin a new piece? My work meditates on specific people, objects, time and place. I prefer to connect to real contexts than to general tropes of New Orleans. I love working with paint- the way it smells, how it mixes, the subtlety of texture and color. I am not trying to create a photograph; I want my process and hand to show through in the work. 
Where do you draw inspiration? Everywhere. I try to stay open.
Who are your artistic influences or gurus? There are a few iconic painters that have been important to me: Lucien Freud, Neo Rauch, Van Gogh. I love Impressionism and Abstract Expressionism. My focus is very much on form and the physicality of paint.
In New Orleans, art and music go hand in hand. What type of music, band or song lyric best describes your work? I am also a musician- piano and accordion. I do find that these creative pursuits complement each other. However, for me a painting is more like a message in a bottle that you hope will reach someone, though you may not know who that person will be. Music has a much more immediate and communicative impact. The two require and resonate with very different yet necessary energies for me.
What is your favorite time of day/day of the week/month of the year? That time of day when the light is warm and slanted as the sun is about to set.
What is something people don't know about you? A fun fact. I moonlight (or is it sunlight?) as a computer programmer too!
Where You Can Find My Work
All works listed online are available to be viewed at Where Y'Art Gallery by appointment.
Also represented by  600 Julia Street. 
You May Also Like
Meet the Artists
Local art is the lifeblood of our culture and communities. We source work from hundreds of painters, muralists, sculptors, metal workers, printmakers, illustrators, photographers, and textile artists, every one of whom is part of your local community.

Create your Account
With an account you can save favorite works, create collections, send messages to artists, store your shipping info, and more
---
Already a member? Sign in here

;