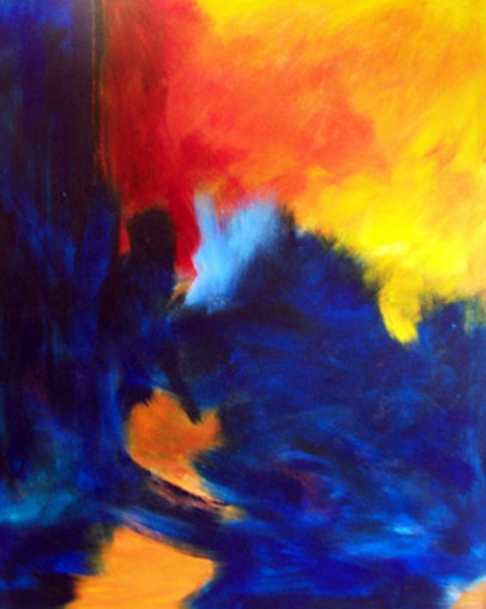 "Blues on Sunday" Homage to Joshua Redman
2010
Joshua Redman (born February 1, 1969) is an American jazz saxophonist and composer. In 1991, he won the Thelonious Monk International Jazz Saxophone Competition. Redman was born in Berkeley, California to jazz saxophonist Dewey Redman and dancer and librarian Renee Shedroff. He was exposed to many kinds of music at the Center for World Music in Berkeley, where his mother studied South Indian dance. Some of his earliest lessons in music and improvisation were on a recorder with gamelan player Jody Diamond. He was exposed at an early age to a variety of music and instruments and began playing clarinet at age nine before switching to what became his primary instrument, the tenor saxophone, one year later. Redman cites John Coltrane, Ornette Coleman, Cannonball Adderley, his father Dewey Redman, as well as the Beatles, Aretha Franklin, the Temptations, Earth, Wind and Fire, Prince, the Police, and Led Zeppelin as musical influences.
Acrylic on canvas
60" x 48"
Shipping cost: $200.00

I call my art "Composing with Color". Everyone hears music differently. The way we perceive art is shaped by our taste and by emotions, situations, and personalities. My canvas is the manuscript on which the notes are painted. I have attempted to have music take on physical colors as it travels through air. My ideal vision would be to create a world in colors as Thelonious Monk created a world of sound.
I am a graduate of The Pennsylvania Academy of the Fine Arts in Philadelphia, PA. I have had solo exhibitions in New Orleans, Los Angeles, Miami and Frankfurt, Germany. I have received a grant from the prestigious Pollock-Krasner Foundation and the Artist Fellowship Inc, New York, NY.
George McClements is a New Orleans artist living and working in the Bywater neighborhood.
NEW ORLEANS
Meet the Artists
Local art is the lifeblood of our culture and communities. We source work from hundreds of painters, muralists, sculptors, metal workers, printmakers, illustrators, photographers, and textile artists, every one of whom is part of your local community.

Create your Account
With an account you can save favorite works, create collections, send messages to artists, store your shipping info, and more
---
Already a member? Sign in here

;