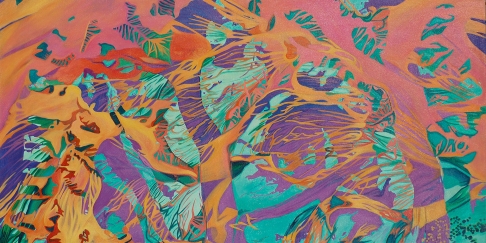 Subtropical Delta Blooms
2016
This is my 5th piece in the series B-Sides, the composition was created during late Spring/early Summer, and it reminds me of walking around New Orleans during that time of year when the air becomes thick and hot and the streets start to pop with a jungle of foliage. The imagery is taken from aerial shots of river deltas layered with bright complementary colors to recreate that feeling. The name of this series is taken from music, B-Side means the reverse side of a record, usually containing lesser known songs. This series is a continuation of my first series "Prickles and Goo". I wanted to continue this process of making compositions inspired by layering and manipulating aerial imagery, so I created B-Sides which is an open ended compilation of works that continue to use this process. While creating my "Water" series I discovered how to build layers to reflect what I had made in Photoshop. By using glazing liquids and brushing on additional layers of gel medium I get a beautifully reflective and luminous piece that is like the transparent layers I make in Photoshop. Keeping this series open ended allows me to continue this process of discovery within the medium, but also my process of composition making. By actively exercising both of these methods I hone my skills and get closer to that which I am trying to express.
Acrylic and Gel Medium on Canvas
36" x 72"
Shipping cost: $200.00

I spent my earliest years in Santa Rosa, California where I was informed by the natural beauty of the Pacific coastline. I studied fine arts painting at Pratt Institute in New York City. After moving to New Orleans in 2013 I discovered a fascination with aerial topography. My work draws on the ever-shifting contemporary landscape for inspiration, seeking to understand the processes and the changes they create. I have shown in New Orleans at Parse Gallery and Brand Gallery among others.

Instagram | @anneblenker
NEW ORLEANS
Meet the Artists
Local art is the lifeblood of our culture and communities. We source work from hundreds of painters, muralists, sculptors, metal workers, printmakers, illustrators, photographers, and textile artists, every one of whom is part of your local community.

Create your Account
With an account you can save favorite works, create collections, send messages to artists, store your shipping info, and more
---
Already a member? Sign in here

;