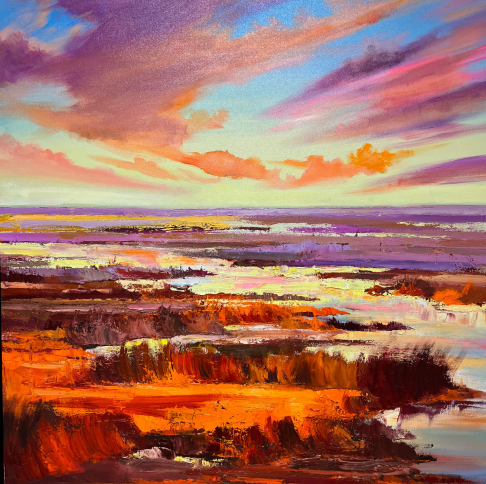 Print - Fall Marsh Series 5
2022
Part of a series of paintings depicting the South Louisiana marsh during dusk hours.          
Fine Art Print on paper of an original oil on canvas painting.
24" x 24"
Shipping cost: $5.00

In my paintings, I try to capture the culture of South Louisiana through the use of figures and color. I was born and raised in Morgan City and my work reflects the cajun culture that I grew up in. In my landscape paintings, I use a combination of brush and palette knife work to help bring the canvas to life. I grew up fishing in the Louisiana marsh and swamplands and these paintings are of areas that I have frequented.
I graduated from L.S.U. with degrees in Painting and Graphic Design. All of my work is oil on board or canvas. I have been living and working in the Baton Area for the past 25 years.  Additional work can be viewed at CassidyBreauxArt.com.
Meet the Artists
Local art is the lifeblood of our culture and communities. We source work from hundreds of painters, muralists, sculptors, metal workers, printmakers, illustrators, photographers, and textile artists, every one of whom is part of your local community.

Create your Account
With an account you can save favorite works, create collections, send messages to artists, store your shipping info, and more
---
Already a member? Sign in here

;