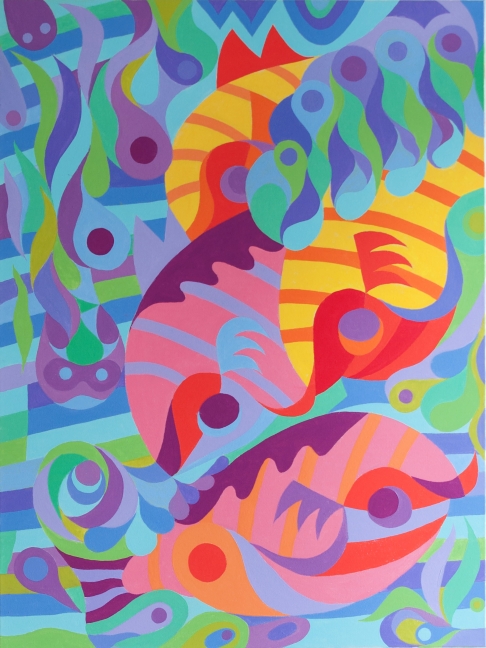 Flying Fish II
2015
This is a highly decorative, yet sophisticated composition, which fuses two- and three-dimensional aspects. This is part of my larger series of works, where every painting has its unique color scheme while maintaining a similar composition. This series represents one of my artistic principles: variety within unity.
Acrylic on Heavy Duty Canvas
40" x 30"
Shipping cost: $0.00

I was born in the USSR in 1960. I graduated from college and worked for a few years as an architect in my Ukrainian hometown. In 1989, I came to Philadelphia as a political refugee, and went back to school. I graduated from the architectural program at Temple University in 1992, and I've been working as an architect ever since.
My professional work was unable to satisfy my creative urge. I wanted to express myself freely, without constraints of the budget and building codes. I attended private painting classes for seven years and worked in my own studio in Philadelphia for eleven years. It was there that I developed my own unique painting style.
I have lived and worked in New Orleans from 2011 till 2016. I had my studio at Studio Inferno, 3000 Royal Street in the Bywater. In 2016, I had to move to San Francisco, where I live and work nowadays. But I left my heart in New Orleans, and I hope to come back, one day.
Follow me on Twitter @pigs_could_fly and on Instagram @georgedolgy_art
Free shipping from San Francisco, CA for online purchases. Local pick up in New Orleans for some paintings.

George Dolgy is a New Orleans artist living and working in San Francisco.
NEW ORLEANS
Meet the Artists
Local art is the lifeblood of our culture and communities. We source work from hundreds of painters, muralists, sculptors, metal workers, printmakers, illustrators, photographers, and textile artists, every one of whom is part of your local community.

Create your Account
With an account you can save favorite works, create collections, send messages to artists, store your shipping info, and more
---
Already a member? Sign in here

;