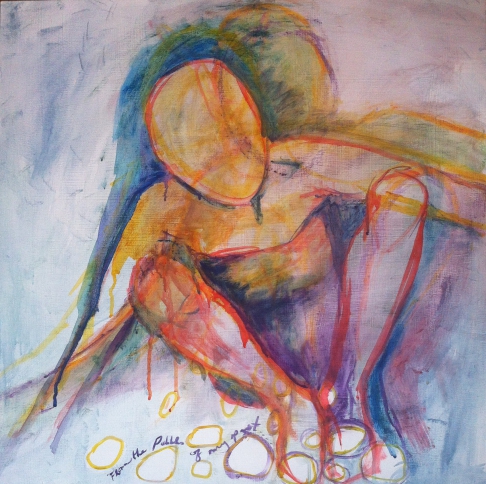 From the Pebbles of My Past
2013
I am fascinated by connections and not only thinking of myself as a mere single individual, but how I am molded from and derived from my experiences, my past, my family's past, and the things I've had to overcome --illness, heartache, loss. We all go through it; we see our family and friends go through it. These are some of the pebbles we lay as our foundations, all stones to build from, all pieces that make us who we are. The beauty is that no one thing defines us, but makes us an intricate, beautiful collage; a quilt of experience, character, and love.
Oil on Panel, Natural Cedar Frame
25.5" x 25.5"
Shipping cost: $50.00

I create because I am compelled to - it has been the tilt of my life since I was a child, though back then it was an experience in working with what was around me - arranging leaves and twigs, collecting and observing rocks, feathers, shells, and fabric scraps.
I create art with a focus on the process while responding to and revealing the different ways I experience the world around me. It encompasses the thoughts in my head, the emotions I experience, and the places I love to visit and explore.
Over a decade ago I packed up my life and my car for a new adventure. New Orleans was supposed to be a brief stop on my way out west, but falling in love with New Orleans can change your plans and your life, and it has been my home since. I still take a long escape to the west that calls me for inspiration and altitude. At heart, I am a North Carolina girl, born and raised there in the woods; the kind that is well acquainted with rivers and trees and says things like y'all. I received my degree in studio art with a concentration in painting from Elon University in 2003.
Contact me if you are in New Orleans and would like to see my artwork in person - I am happy to coordinate and make that happen.
Kat Ryalls is a New Orleans artist living and working in the Bayou St. John neighborhood.
Please visit my personal website here: www.katryalls.com
NEW ORLEANS
Meet the Artists
Local art is the lifeblood of our culture and communities. We source work from hundreds of painters, muralists, sculptors, metal workers, printmakers, illustrators, photographers, and textile artists, every one of whom is part of your local community.

Create your Account
With an account you can save favorite works, create collections, send messages to artists, store your shipping info, and more
---
Already a member? Sign in here

;