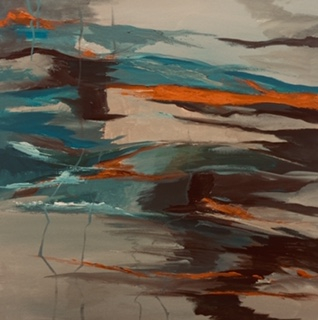 Landscape
2018
City Park New Orleans Abstracted impressions Landscape
Acrylic / Gallery wrapped Canvas
20"x20"
Shipping cost: $50.00
I was born and raised in Cairo, Egypt a vibrant city that maintained it's ancient historic traditions of 4,000 years BC and assimilating diverse multiple cultures of western occupation during the past 2000 years of foreign occupation. At home it was the middle class Coptic Egyptian tradition, at school at the "Lycée Français du Caire", my sister and I were learning and living the French culture at its best. At the age of 12, I started drawing portraits with pencil of family and friends, then switched to water color. Portraits were done on paper with such details and resemblance of character that friends & family were asking me to draw them. It wasn't until high school that I was invited to attend the School of Fine Art, the only academy of Fine arts in Cairo. I did well painting live models using mainly oil media among others. I was also advanced in math in High School, and considering my organized logic mind with my gifted creative nature, this prompted me to seek a creative profession that combined math and art. Architecture is by nature interdisciplinary, encompassing art and engineering. The year I graduated, I started my own practice with residential commissions for many private residences in Cairo, Egypt, and was the first practicing woman architect in Egypt.  
In 1970, with my husband and 2 children, we immigrated to the US, residing in New York for 3 years, then in New Jersey for over 30 years. I passed the Board of Architecture licensing in 1975, and obtained my reciprocal registration in New Jersey, followed by New York and other states. In 1993, with my husband Saad Morgan, an Artist and Interior Designer, we started Morgan Architecture, Inc., a small practice firm in Princeton, NJ. After the loss of my younger son in 1985, followed by my husband in 1995, I continued to practice and was commissioned by 5 Churches as well as residential and commercial projects in New Jersey. In 2007 I moved to New Orleans, following my older son who started a faculty position at the University of Southern Mississippi, where he is now a full Professor at the school of Education. 
NEW ORLEANS
Meet the Artists
Local art is the lifeblood of our culture and communities. We source work from hundreds of painters, muralists, sculptors, metal workers, printmakers, illustrators, photographers, and textile artists, every one of whom is part of your local community.

Create your Account
With an account you can save favorite works, create collections, send messages to artists, store your shipping info, and more
---
Already a member? Sign in here

;