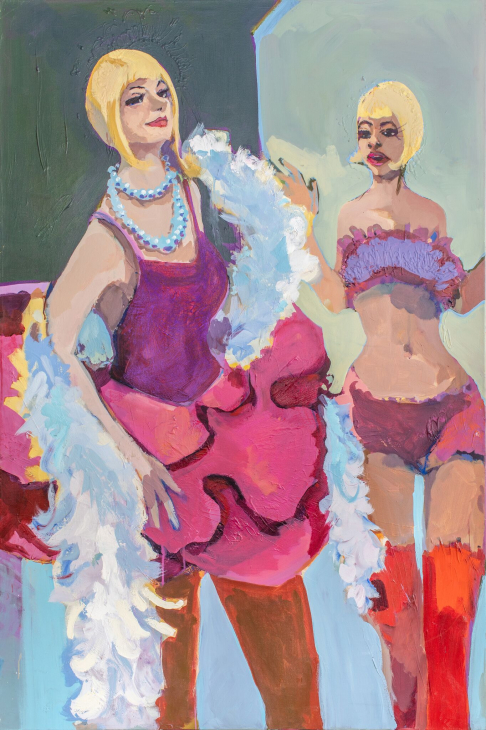 Art by Gaux Gaux
Touch-Me-Nots
2017
Also called Jewel Weed, this magnificent wildflower gets its name from the seed pods that explode when touched. Although alluring, the queen in the front seems unsure and hides in her boa. You can look, but you can't touch! This is a part of the Painted Ladies Series. Please message the artist for shipping quotes.
Acrylic on Canvas
60" x 40"
Shipping cost: $150.00

As a New Orleans native, I am so proud to be apart of this culturally thriving city. There is no better place to be as an artist, and I find inspiration on a daily basis walking through these enriching streets. After receiving my MFA from LSU, I moved to the Garden District where I currently work out of my home studio.
Working almost entirely in acrylic, I create large-scale figurative paintings on canvas. Having several wonderful gay friends who are drag queens, I have been exposed to private dressing rooms before their show. Enamored with the dazzling two-hour transformations and impressed by the talent and dedication it took to create these costumes, I found a spark to represent this world in my ongoing series "Painted Ladies" and "Costumes and Queens". My paintings explore the notion that gender is no longer black and white but an array of colors as expressed through the use of bright color schemes. My work showcases the fun in expressing oneself and toy with the concept of androgyny. I generally create my works based on imagination using ideas from memories, photos, or sights around the city.
In my most current series, I am creating my own interpretation of tarot using drag queens as a motif. The "Drag Tarot Series" incorporates the themes of Tarot card reading and the artistic expression of Drag to blend together these two very popular elements found in New Orleans. 
Visit my website: gaux-gaux.com Follow me on Instagram 
All of my paintings are on gallery-wrap canvas. The sides are painted so they do not require a frame. For more info, please message me or send me an email: gaux@gaux-gaux.com
NEW ORLEANS
Meet the Artists
Local art is the lifeblood of our culture and communities. We source work from hundreds of painters, muralists, sculptors, metal workers, printmakers, illustrators, photographers, and textile artists, every one of whom is part of your local community.

Create your Account
With an account you can save favorite works, create collections, send messages to artists, store your shipping info, and more
---
Already a member? Sign in here

;