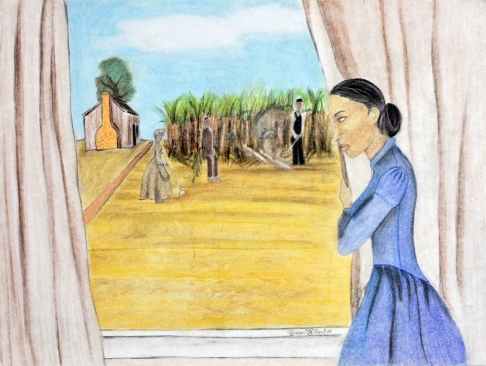 Queen Hope Poetic Art
Slaves In The Field
2013
Excerpt from poem: Daughters "... when they took her from me she just turned eight they said her help in the house would be great a few years later she began sneaking by me to sleep I knew something was not right with her creep I asked the spirits about the secrets she keep turned out she was the reason I had more nights asleep..." This was the third piece to a series of an enslaved family. The excerpt is the third part of the first poem related to this series.
Pastel on Fine Art Paper
16" x 20"
Shipping cost: $25.00

I was born and raised in downtown New Orleans into a culture of cooking, music, dance, art, and crafts. My grandfather's hobby was visual art, my dad is a chef, and my grandmother sewed clothing; I freelanced all these talents. As a child, my father registered my siblings and me in dance and music classes. I attended McDonogh 35 Senior High, but due to Hurricane Katrina, I graduated from Westside High in Houston, Texas. After graduating high school, I moved back home and worked full time while attending Delgado, then William Carey for college prerequisites.
I later attended Dillard University School of Nursing in 2012, and I graduated in May 2015 with a Bachelor of Science in Nursing. I am currently a Registered Nurse aspiring to become a Nurse Midwife. I also completed Doula training with Sista Midwife Productions in November 2014 and became a part of Birthmark Doula Collective shortly after.
People often ask, "What's your focus?" This is an awkward conversation in one sitting. My focus is my belief. My art tells a story in the form of poetry. As an artist, I feel free to express my vision through creations not limited to sewing, painting, drawing, or craft. It all depends on the message I am sending. I dream of a world where we can live holistically in nature, health, and beauty. Originality and authenticity of species and spirit is my highest value. I am now working my way back into the art world to continue sharing this vision with the world.
NEW ORLEANS
Meet the Artists
Local art is the lifeblood of our culture and communities. We source work from hundreds of painters, muralists, sculptors, metal workers, printmakers, illustrators, photographers, and textile artists, every one of whom is part of your local community.

Create your Account
With an account you can save favorite works, create collections, send messages to artists, store your shipping info, and more
---
Already a member? Sign in here

;