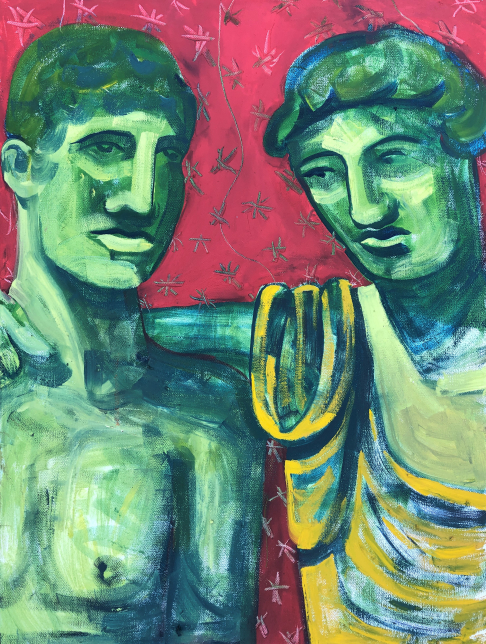 Orestes and Electra
2020
oil on canvas, framed
24" x 18"
Shipping cost: $100.00

I'm a figurative painter from New Orleans, Louisiana. I graduated from the New Orleans Center for Creative Arts in 2009. After studying at Massachusetts College of Art and Design in Boston for a year and spending an exchange semester at Queens College in New York, I returned home where I received my Bachelor of Fine Arts from the University of New Orleans in 2014. 
My paintings are vibrant and textural; utilizing acrylic paint, oil paint, gold leaf, and sometimes glitter to create sharp contrast against brightly lit skies. My work seeks to investigate the human experience and mysteries of the after-life. I attempt to connect the dots between personal memories, dreams, and ancient mythology in the stories my paintings tell. I strongly rely on personal photographs as source material to create my surreal portraits.
10% of all sales of original art will be donated to a rotating group of local mutual aid efforts. 
NEW ORLEANS
Meet the Artists
Local art is the lifeblood of our culture and communities. We source work from hundreds of painters, muralists, sculptors, metal workers, printmakers, illustrators, photographers, and textile artists, every one of whom is part of your local community.

Create your Account
With an account you can save favorite works, create collections, send messages to artists, store your shipping info, and more
---
Already a member? Sign in here

;