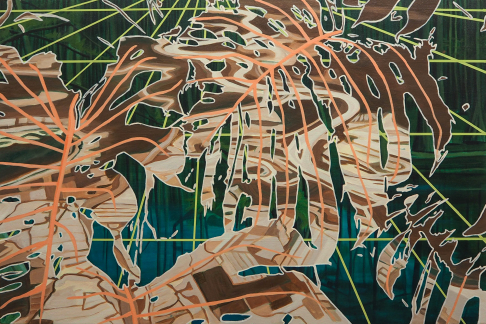 Downstream
2018
This collection of paintings was my reflection on the New Orleans landscape. Each one features different views of the region's subtropical ecology and urban landscape, including the Mississippi River and surrounding swamplands. My design process dissects elements of the surrounding landscape and collages them back together. I layered each feature atop the previous, cropping and obscuring what came before. This emulates the natural and artificial processes of change in landscape over time. The river plays a main character in the historic drama and in these paintings, creating and destroying ecosystems on its path to the gulf and centering our trade economy. It is the most important geographic feature in the region and the lifeblood of the people here. By collaging together these native elements of Southern Louisiana I celebrate the beauty of living with these natural features and consider how our modifications to natural systems, including levees, navigation canals, and drained wetlands will portend for the region's health in the long run. I was led to this series by my sustained interest in topography and systems – natural systems, man-made systems, and the relationship between the two. In my previous work, I digitally collaged shapes, textures and color of aerial topography from around the world and then layered them one by one reflecting on the process of transformation. In the newer series, I wanted to pull more specifically from the landscape of this region and introduced mixed perspectives that are more psychological than aerial, incorporating plants, topographical, and features that make New Orleans unique.
Acrylic on Canvas
32" x 48"
Shipping cost: $300.00

I spent my earliest years in Santa Rosa, California where I was informed by the natural beauty of the Pacific coastline. I studied fine arts painting at Pratt Institute in New York City. After moving to New Orleans in 2013 I discovered a fascination with aerial topography. My work draws on the ever-shifting contemporary landscape for inspiration, seeking to understand the processes and the changes they create. I have shown in New Orleans at Parse Gallery and Brand Gallery among others.

Instagram | @anneblenker
NEW ORLEANS
Meet the Artists
Local art is the lifeblood of our culture and communities. We source work from hundreds of painters, muralists, sculptors, metal workers, printmakers, illustrators, photographers, and textile artists, every one of whom is part of your local community.

Create your Account
With an account you can save favorite works, create collections, send messages to artists, store your shipping info, and more
---
Already a member? Sign in here

;