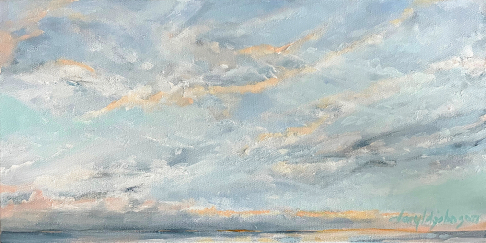 Rough Clouds
2018
Rough Clouds is an exuberant, almost abstract, cloudscape with a sweeping vista over water.
Painting is done in oils on heavy-duty canvas and is gallery wrapped on heavy-duty stretchers. Signed lower right.
10" x 20" x 1.5"
Shipping cost: $75.00

Shifting water patterns and rising transient clouds reflect nature's energy in my oil paintings. The views are familiar, but the subtext is the underlying Chi, the sweeping momentum of energy. The earth "breathes" in and out with compositions of uplifting shapes. Skies resonate with pulsing waves of clouds and lofty patterns produce a rhythm of color. These original oil paintings on canvas celebrate the vibration of the planet.
Practicing Ai Chi (Tai Chi in a pool) creates a state of Mindfulness. I enjoy kayaking, gardening, birding and motorcycling during which I form visions for compositions. I was born in Manhattan and moved to the NYC suburbs when two. Armonk, NY provided lots of opportunities to play in wild forests, ice skate on large lakes, visit NYC Museums often, and to attend the annual summer outdoor Art Show. I loved the annual Girl Scout camp weeks in upstate New York.
I graduated from Hope College in Michigan, and studied at the University of Cincinnati, the Vermont Studio School and The Art Students League of New York. My paintings have won numerous awards and are in private and corporate collections including Delta Airlines, Fidelity Investments, General Electric, Toledo Botanical Garden, Aetna Insurance and Pepsico.
I live and work in the Bayou St. John neighborhood of New Orleans where I enjoy plein air painting in City Park and the luminous skies over the Bayou.
NEW ORLEANS
Meet the Artists
Local art is the lifeblood of our culture and communities. We source work from hundreds of painters, muralists, sculptors, metal workers, printmakers, illustrators, photographers, and textile artists, every one of whom is part of your local community.

Create your Account
With an account you can save favorite works, create collections, send messages to artists, store your shipping info, and more
---
Already a member? Sign in here

;