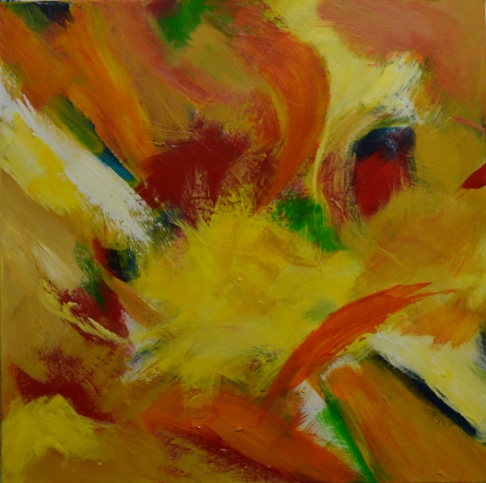 "Landscape for Future Earth" Homage to Keith Jarrett
2017
Keith Jarrett (born May 8, 1945) is an American jazz and classical music pianist. Jarrett started his career with Art Blakey, moving on to play with Charles Lloyd and Miles Davis. Since the early 1970's, he has enjoyed a great deal of success as a group leader and a solo performer in jazz, jazz fusion, and classical music. His improvisations draw from the traditions of jazz and other genres, especially Western classical music, gospel, blues, and ethnic folk music. In 2003, Jarrett received the Polar Music Prize, the only recipient of both the contemporary and classical musician prizes, and in 2004 he received the Léonie Sonning Music Prize. In 2008, he was inducted into the Down Beat Hall of Fame in the magazine's 73rd Annual Readers' Poll.
Acrylic on canvas
20" x 20"
Shipping cost: $50.00

I call my art "Composing with Color". Everyone hears music differently. The way we perceive art is shaped by our taste and by emotions, situations, and personalities. My canvas is the manuscript on which the notes are painted. I have attempted to have music take on physical colors as it travels through air. My ideal vision would be to create a world in colors as Thelonious Monk created a world of sound.
I am a graduate of The Pennsylvania Academy of the Fine Arts in Philadelphia, PA. I have had solo exhibitions in New Orleans, Los Angeles, Miami and Frankfurt, Germany. I have received a grant from the prestigious Pollock-Krasner Foundation and the Artist Fellowship Inc, New York, NY.
George McClements is a New Orleans artist living and working in the Bywater neighborhood.
NEW ORLEANS
Meet the Artists
Local art is the lifeblood of our culture and communities. We source work from hundreds of painters, muralists, sculptors, metal workers, printmakers, illustrators, photographers, and textile artists, every one of whom is part of your local community.

Create your Account
With an account you can save favorite works, create collections, send messages to artists, store your shipping info, and more
---
Already a member? Sign in here

;