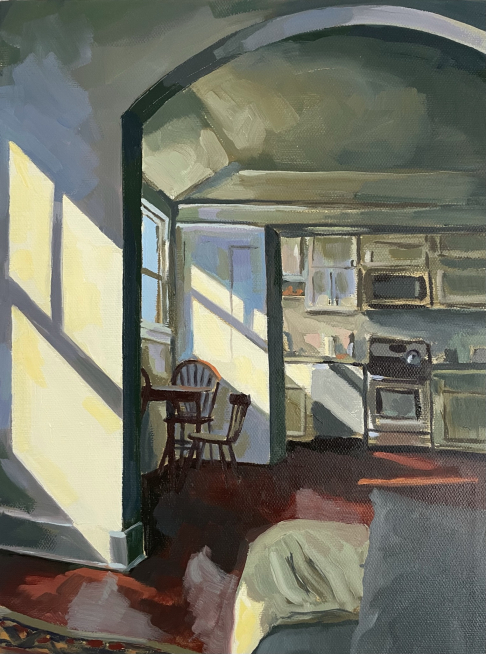 Empty Space / Breathing Room
2021
oil on canvas, framed
9" x 12"
Shipping cost: $35.00

I've been drawn to art - creating it, looking at it, learning about it - since I was a small child. In elementary school I was a Georgia O'Keefe fan and always the last kid in class still engrossed in the art project while everyone else had moved on to play time.
I went on to earn my BFA in Painting and Drawing and have since continued my creative practice, working mostly in oil paint as well as some encaustic, collage, and mixed media. As I began building a career, I found I was increasingly interested in not only my own art, but the larger role of art and artists in local communities and the world. That interest led me to my MA in Arts Administration, as well as to my current position with Where y'Art Works as Community Manager. 
As much as I'm excited by other artists, my own work is rooted entirely in my personal, even internal, experiences. I'm nostalgic and motivated by a fear of forgetting. When I look back at my paintings, I'm reminded of not only the memory depicted in the subject matter, but also my own processing of that memory, which happens through the meditative act of painting, getting mixed in with whatever else is churning internally at the time. They're like my personal, layered time capsules. 
Given that, I'm always pleasantly surprised when others respond to or identify with my work; it's an amazing way to connect with people. I also love the challenge of interpreting another person's memory, home, or experience, and happily take commissions! Send me a message to inquire.
NEW ORLEANS
Meet the Artists
Local art is the lifeblood of our culture and communities. We source work from hundreds of painters, muralists, sculptors, metal workers, printmakers, illustrators, photographers, and textile artists, every one of whom is part of your local community.

Create your Account
With an account you can save favorite works, create collections, send messages to artists, store your shipping info, and more
---
Already a member? Sign in here

;