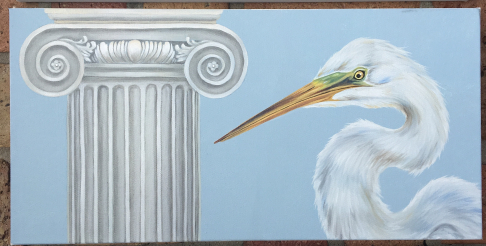 Ionic Great Egret
2019
Oil on canvas 
10" x 20"
Shipping cost: $35.00

I was born and raised in New Orleans and have always been drawn to anything old - buildings, historical figures, artistic techniques, etc. I studied history and art history in college, while painting and drawing whenever I could. I then went to graduate school for historic preservation. After a few years working for a local decorative painter and historic refinisher, I began painting more using techniques and ideas I had picked up through that time. My paintings reflect my interests, with a touch of whimsy and are meant to poke fun at the traditional rigidity of classical portraiture. Every portrait has a story because they reflect the life and times of that person. Learning those stories and then bringing them into the modern world through painting is what I enjoy doing.
NEW ORLEANS
Meet the Artists
Local art is the lifeblood of our culture and communities. We source work from hundreds of painters, muralists, sculptors, metal workers, printmakers, illustrators, photographers, and textile artists, every one of whom is part of your local community.

Create your Account
With an account you can save favorite works, create collections, send messages to artists, store your shipping info, and more
---
Already a member? Sign in here

;