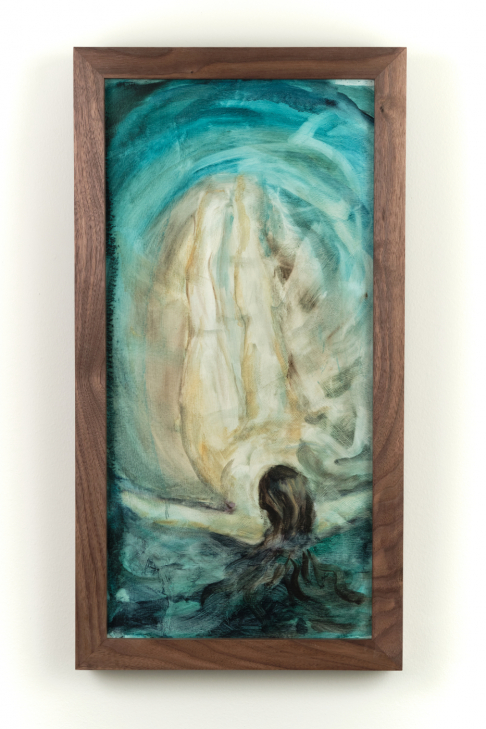 Swimmer Study
2022
oil on paper with handmade walnut frame
19 x 10.25 x 1.5"
Shipping cost: $40.00
Kate R. Hanrahan (b. 1985, Pennsylvania) is an artist and educator based in New Orleans. She graduated from the Savannah College of Art and Design with a BFA in Painting in 2007. Hanrahan has shown her work nationally in cities such as Atlanta, Savannah, Boston, New York, and New Orleans, as well as internationally in Canada and France. In 2015, she took part in Brandan Odum's Exhibit BE which became known as the largest single-site street art exhibit in the American South. Her public art works are featured in the book, New Orleans: Murals, Street Art & Graffiti, Volume One, compiled by Kady Perry. 
Hanrahan has worked across the mediums of painting, drawing, paper cut-outs, photography and installation over the years. Steeped in symbolism, her work maps personal explorations of gender, identity, dreams, longing, death, rebirth and the physical body in relation to what surrounds it. Figures, plants and animals create a visual language of shared human experience and ties to the natural and spiritual world. Delving into the unconscious, she plumbs the depths of the inner landscape, invoking both memory and imagination as a means of curiosity, understanding and connection.  

NEW ORLEANS
Meet the Artists
Local art is the lifeblood of our culture and communities. We source work from hundreds of painters, muralists, sculptors, metal workers, printmakers, illustrators, photographers, and textile artists, every one of whom is part of your local community.

Create your Account
With an account you can save favorite works, create collections, send messages to artists, store your shipping info, and more
---
Already a member? Sign in here

;