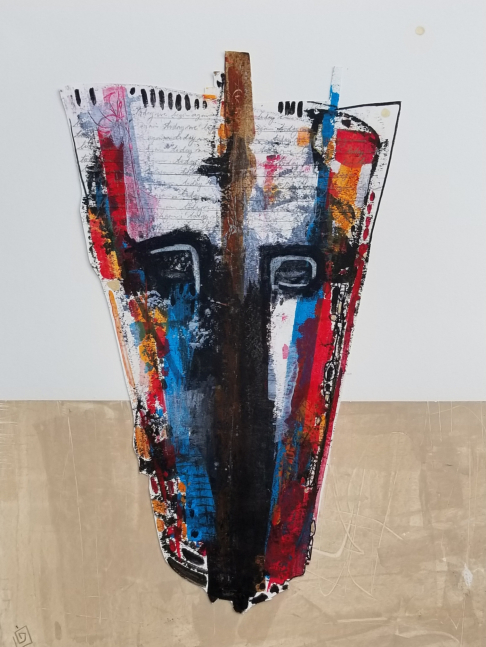 Meeting Notes #189
2021
Meetings are a large component of public health, and the space where many of my artistic concepts emerged. My series, "Meeting Notes" began in meetings where I found myself listening and sketching. After a few years of meetings, I amassed over 300 unique drawings. The sketches, drawn somewhat subconsciously, resembled masks. I examined the concept of masks closer and in the process started to create large scale versions of the sketches. I primarily use painting and collage to recreate the sketches from my meetings. Through this process a revelation emerged; masks were traditionally used to conceal an identity, the mask can also be used to help myself and others communicate by illuminating and amplifying the unseen parts of who we are. The mask is a map of our individual identity; each region highlighting a unique part of our persona through its design. The nature of the mask is rooted in and inspired by the tradition of our ancestors. It is a retrospective that helps us explore our beginnings in order to understand where and who we are now.
Acrylic/Color Pencil
18" x 24"
Shipping cost: $15.00

Sean Gerard Clark is a native of Chattanooga, Tennessee who has lived and worked in New Orleans for the past ten years. Before coming to New Orleans, Sean graduated from Morehouse College with a Bachelors of Science in Biology with a concentration in Public Health and African-American Studies. Sean has always found art as a tool for navigating life throughout his work and academic career. He began his artistic practice as a landscape painter and over the years has transitioned into a variety of subjects that investigate the human condition. Sean is a self-taught artist who utilizes oil and acrylic paints, and collage materials. Sean's mixed media piece, "Unresolved Grief" was featured in Harvard's Advanced Leadership Initiative as a part of the organization's efforts to increase emotional awareness of mental health issues. In 2019 Sean was accepted into the Louisiana Contemporary at the Ogden Museum of Southern Art. In 2020, Sean completed a 5 month residency at the Joan Mitchell Center in New Orleans. In 2021 Sean completed residency at Stoveworks in Chattanooga, TN. Coupled with his time as a health educator, he has led art classes that focus on helping students find their own creative voice through journal and mask making. Sean has created works to reflect identity and history, while sparking ideas in the minds of viewers. Sean is the recipient of the 2021 Emerging Artist Residency at the Santa Fe Art Institute.

Meet the Artists
Local art is the lifeblood of our culture and communities. We source work from hundreds of painters, muralists, sculptors, metal workers, printmakers, illustrators, photographers, and textile artists, every one of whom is part of your local community.

Create your Account
With an account you can save favorite works, create collections, send messages to artists, store your shipping info, and more
---
Already a member? Sign in here

;