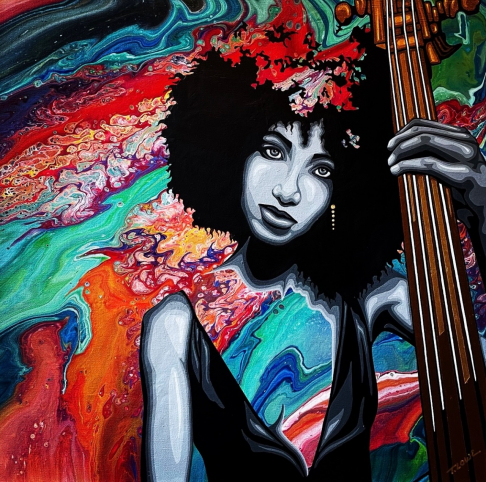 Her Vibrant Soul
2022
Acrylic on canvas

24" x 24" x 1.5"
Shipping cost: $100.00

I am a self-taught artist living in New Orleans for the past 41 years. I have always loved creating art and did so mostly for my own enjoyment. I was also a co-owner of a little sign shop, in which I was the graphic artist for over 15 years. I was happy with that until my life was completely turned around in 2012 when my husband was diagnosed with cancer. I had to do something to help with the finances, so I started selling my art. When my husband passed in 2014, I had my art. Art was my counselor, my therapy, my solace. I always painted with precision. He always told me to loosen up. My art presently is a combination of both. It brings me great joy to have a stranger look at one of my pieces and smile. I feel honored and humbled that someone I don't know is willing to spend their hard-earned money to take one of my pieces home. I create my pieces for my AMAZING sons, for the memory of my husband, for the public, but mostly I create my art for me.
NEW ORLEANS
Meet the Artists
Local art is the lifeblood of our culture and communities. We source work from hundreds of painters, muralists, sculptors, metal workers, printmakers, illustrators, photographers, and textile artists, every one of whom is part of your local community.

Create your Account
With an account you can save favorite works, create collections, send messages to artists, store your shipping info, and more
---
Already a member? Sign in here

;