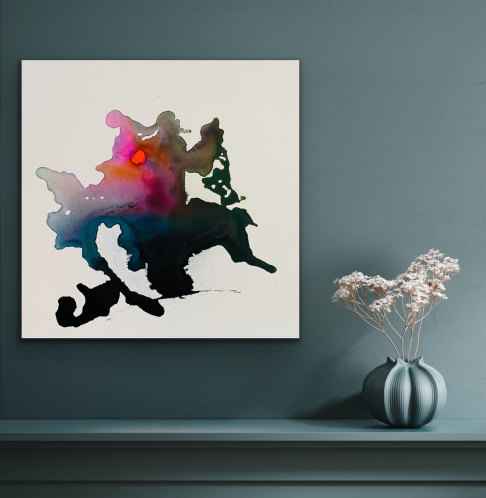 Sachet
2019
This fluid acrylic piece was inspired by a trip I took to the Keys. The colors there are amazing! 
Acrylic and water on canvas
24"x24"x1.5
Shipping cost: $80.00

Painting is very emotional for me. It is a way for me to concentrate and focus on one thing. I find that if I don't paint daily I tend to have an overload of emotions. Painting takes those emotions and turns them into a creative outlet that I desperately need in my daily life. I love watching the different layers come together and assemble onto the canvas. There are days I want to throw my paintbrush across the room, don't get me wrong, but for the most part I fully enjoy the process!
I never thought of myself as an artist. I was never any good at anything artistic. If someone would have told me one day I would become an abstract artist, I would have laughed. I have never even taken an art class, my handwriting is terrible, and I can't draw!! At a certain part of my life I was lost and searching for a creative way to express myself. I went to a local art store and purchased 3 canvases, a sponge, an inexpensive pack of brushes, and 3 tubes of paint: red, black, and white. This began a journey into a very monochromatic start into abstract painting...
I painted in only red, black, and white for roughly 5 years, the last of which only black and white. A friend of mine told me to try painting with only color. No black and white…. What?! I didn't even know where to start! But, I took his advice.
It was a challenge for me but… I was really excited about how it turned out! And I really enjoyed how the colors spoke to me. This changed how I painted. It changed how I looked at my art. Not overnight, but over time. Little by little I added color to the black and white style that calmed me. It brought on a new perspective. I felt slightly more comfortable with color. But this took years.
After a while, I hit a wall. I didn't really know what I was doing. So, I decided to do some research into other artists. This was a turning point! I couldn't believe how art made me feel. Not just paintings, but sculpture and installation art. I began to understand art in different way. But, I still didn't know how to make marks and brush strokes like they did. It was frustrating to say the least. I just kept painting. Painting was and still is my release. It calms my mind and allows me to focus on one thing; creating something that gives me this feeling. I can't describe it but, it's the same feeling I get when I walk into a room I have never been before. Or visit a place I have never been. Or hear a song I've never heard. There's a mystery to it that I must understand. A code I must crack. So I just keep painting…

I am also accepting commissions. Please reach out to me for details.
BATON ROUGE
Meet the Artists
Local art is the lifeblood of our culture and communities. We source work from hundreds of painters, muralists, sculptors, metal workers, printmakers, illustrators, photographers, and textile artists, every one of whom is part of your local community.

Create your Account
With an account you can save favorite works, create collections, send messages to artists, store your shipping info, and more
---
Already a member? Sign in here

;