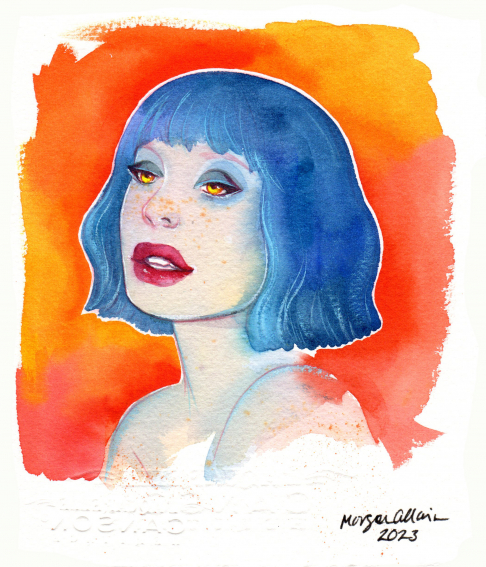 Blue Lady
2023
A cerulean headed lady. Poised and Pretty.
Original watercolor on Canson watercolor paper
7x8 inches
Shipping cost: $10.00

As a native of Southwest Louisiana,  a love of art is in my blood. The area I grew up in is saturated with art of all kinds and I'm so fortunate to count myself among such skilled artists. I was born and raised in Lake Charles but have migrated north to the little town of DeQuincy, a more rural area that is home to all the amazing wildlife and flora I could ever want. I attended McNeese State University where I earned a Bachelor's degree in Art and studied drawing and printmaking primarily- but in the decade since I've shifted my focus to watercolor and found my true calling as a painter. I've fixated on many different subjects over recent years; pop culture and portraiture were my interest for a long time. Now, I'm inspired primarily by my surroundings and paint local flora and fauna, learning as I go.  You can often find me tromping around the woods and finding mushrooms and critters to sketch and photograph for reference. 
LAKE CHARLES
Meet the Artists
Local art is the lifeblood of our culture and communities. We source work from hundreds of painters, muralists, sculptors, metal workers, printmakers, illustrators, photographers, and textile artists, every one of whom is part of your local community.

Create your Account
With an account you can save favorite works, create collections, send messages to artists, store your shipping info, and more
---
Already a member? Sign in here

;