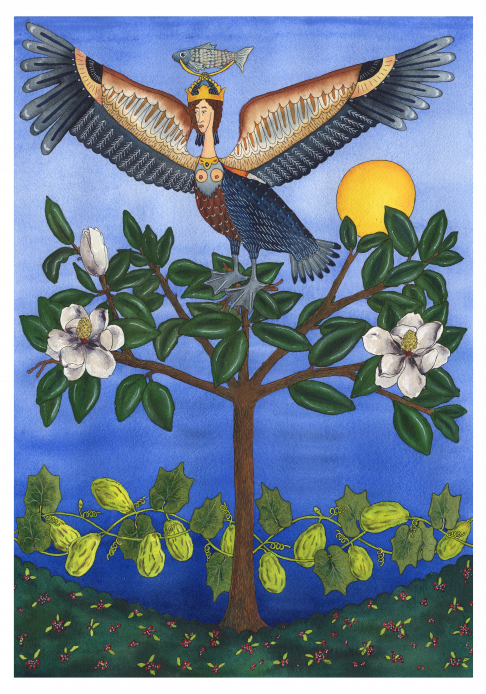 Louisiana Mythology : Brown Pelican Alkonost
2017
Alkonost is the Russian name for the half-bird, half-woman creatures that appear in Russia's vibrant and ancient folklore tradition. In this series, I play with both composite creatures (birds and humans) and composite cultures (Russian and Louisianan) to create a new mythology, a new kind of Alkonost, one that protects various elements of the Louisiana landscape. In the Louisiana Mythology series, I strive to create a visual language specific to the state in which each element can be read and parsed out almost like a book. Louisiana is already rich in its cultural icons, natural landscapes, and fables, and in much of my work I play with these extant cultural components, layering them atop other traditions and visual languages. Here, the Brown Pelican Alkonost is enthroned on a magnolia tree and watches over the verdant land and the mirliton. Her crown holds a river fish. She is a celestial being who guards the Louisiana landscape. Protection and guardianship-- specifically female guardianship-- appear frequently in my paintings. Much like a talisman you wear around your neck, I like the idea that a painting can be a protective object for your wall, can act as guardian of your space. The alkonosts have dominion over their static ecosystem in the particular world of the painting-- in this case, the magnolia tree, the mirliton, the fish-- but as an object on your wall, they also serve as guardians over your room, your space, whatever dynamic ecosystem they come to occupy. They protect two worlds: the world of the painting and the world they see from their perch on the wall. Though the Louisiana Mythologies themselves are figments of my imagination, the visual references (almost always from nature) are quite literal and real, and consistently specific to Louisiana. Similarly, the cultural references are rooted in history and fact: the alkonosts, for instance, appear in ancient Russian folklore in both word and image and can be studied and enjoyed apart from my work.
Watercolor and ink on paper
24" x 18"
Shipping cost: $50.00

I was born in Covington, Louisiana. After college (I studied Literature and Art History, with plans to go into academia) I moved to Serbia for two years. I was inspired by the Byzantine icons-- a motif that still finds its way into my work regularly-- and, for the first time in my life, found I had the time to paint every day. I quickly realized this was how I wanted to spend the rest of my life and I returned to the United States determined to establish an art career. I've been painting full-time ever since.
I still spend a lot of time traveling, and when I'm not in New Orleans you can find me in some distant land (most recently, I took the Trans-Siberian railway from Beijing to Moscow), sketchbook in hand, gathering inspiration.
NEW ORLEANS
Meet the Artists
Local art is the lifeblood of our culture and communities. We source work from hundreds of painters, muralists, sculptors, metal workers, printmakers, illustrators, photographers, and textile artists, every one of whom is part of your local community.

Create your Account
With an account you can save favorite works, create collections, send messages to artists, store your shipping info, and more
---
Already a member? Sign in here

;