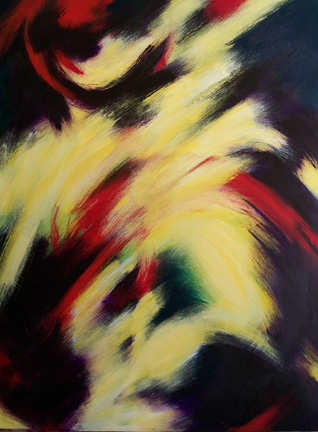 "Hot Timbales" Homage to Tito Puente
2009
Ernesto Antonio "Tito" Puente, (April 20, 1923 – June 1, 2000), was an American salsa musician and Latin jazz, composer. The son of native Puerto Ricans, Ernest and Ercilia Puente, living in New York City's Spanish Harlem community, Puente is often credited as "The Musical Pope," "El Rey de los Timbales" (The King of the timbales) and "The King of Latin Music." He is best known for dance-oriented mambo and Latin jazz compositions that endured over a 50-year career. He and his music appear in many films such as The Mambo Kings and Fernando Trueba's Calle 54. He guest-starred on several television shows including Sesame Street, The Cosby Show and, most notably, The Simpsons two-part episode "Who Shot Mr. Burns?".
Acrylic on canvas
48" x 36"
Shipping cost: $125.00

I call my art "Composing with Color". Everyone hears music differently. The way we perceive art is shaped by our taste and by emotions, situations, and personalities. My canvas is the manuscript on which the notes are painted. I have attempted to have music take on physical colors as it travels through air. My ideal vision would be to create a world in colors as Thelonious Monk created a world of sound.
I am a graduate of The Pennsylvania Academy of the Fine Arts in Philadelphia, PA. I have had solo exhibitions in New Orleans, Los Angeles, Miami and Frankfurt, Germany. I have received a grant from the prestigious Pollock-Krasner Foundation and the Artist Fellowship Inc, New York, NY.
George McClements is a New Orleans artist living and working in the Bywater neighborhood.
NEW ORLEANS
Meet the Artists
Local art is the lifeblood of our culture and communities. We source work from hundreds of painters, muralists, sculptors, metal workers, printmakers, illustrators, photographers, and textile artists, every one of whom is part of your local community.

Create your Account
With an account you can save favorite works, create collections, send messages to artists, store your shipping info, and more
---
Already a member? Sign in here

;