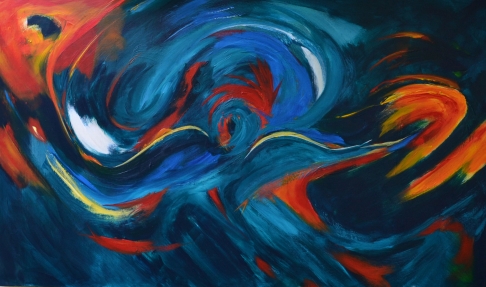 "Mysterious Traveller" Homage to Weather Report
2017
Weather Report was an American jazz fusion band of the 1970s and early 1980s. The band was initially co-led by the Austrian-born keyboard player Joe Zawinul, the American saxophonist Wayne Shorter and Czech bassist Miroslav Vitouš. Due to creative and financial disagreements, Vitouš left the band after a few years. Zawinul took increasing control and steered the band towards a more funk, R&B oriented sound. Other prominent members at various points in the band's lifespan included bassists Alphonso Johnson, Jaco Pastorius and Victor Bailey; and drummers/percussionists Peter Erskine, Alex Acuña, Airto Moreira, and Chester Thompson. Alongside Miles Davis's electric bands, the Mahavishnu Orchestra, Return to Forever, and Headhunters, Weather Report is considered to be one of the pre-eminent early jazz fusion bands. As a continuous working unit, Weather Report outlasted all of its contemporaries despite (or perhaps because of) frequent changes of personnel, with a career lasting sixteen years between 1970 and 1986. However, the band was nearly always a quintet of keyboards, sax, bass, drums, and percussion. "Mysterious Traveler" marks the peak of the pre-Jaco era and is hailed by many as their finest moment. While other fusion acts relied heavily on the presence of the ever-popular electric guitar, WEATHER REPORT forged ahead without one and still managed to produce an album that transcended anything done with jazz-based music before. "Black Market" would mark another transition in their direction that would ultimately be realized in 1977's "Heavy Weather". Standing as their most commercially successful and critically acclaimed album.
Acrylic on canvas
36" x 60"
Shipping cost: $250.00

I call my art "Composing with Color". Everyone hears music differently. The way we perceive art is shaped by our taste and by emotions, situations, and personalities. My canvas is the manuscript on which the notes are painted. I have attempted to have music take on physical colors as it travels through air. My ideal vision would be to create a world in colors as Thelonious Monk created a world of sound.
I am a graduate of The Pennsylvania Academy of the Fine Arts in Philadelphia, PA. I have had solo exhibitions in New Orleans, Los Angeles, Miami and Frankfurt, Germany. I have received a grant from the prestigious Pollock-Krasner Foundation and the Artist Fellowship Inc, New York, NY.
George McClements is a New Orleans artist living and working in the Bywater neighborhood.
NEW ORLEANS
Meet the Artists
Local art is the lifeblood of our culture and communities. We source work from hundreds of painters, muralists, sculptors, metal workers, printmakers, illustrators, photographers, and textile artists, every one of whom is part of your local community.

Create your Account
With an account you can save favorite works, create collections, send messages to artists, store your shipping info, and more
---
Already a member? Sign in here

;