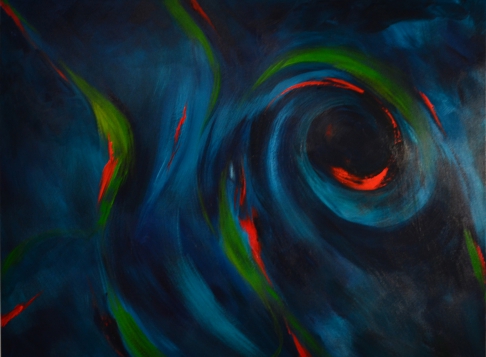 "The Undertow" Homage to Brian Blade
2015
Louisiana-born, Brian Blade grew up in Shreveport, then New Orleans, where he distilled the unique drumming styles and musical heritage of the nation's spiritual underbelly into a powerfully swinging percussive trademark. Nurtured under the watchful eyes of Ellis Marsalis and New Orleans Dixie-drum masters Johnny Vidacovich and Herlin Riley, Blade learned to find his 'knit in the blanket' of sounds and styles. Brian Blade makes music that exists beyond borders. Spirituality, sensitivity, honesty, loyalty, all these traits feed the theme of the Brian Blade Fellowship. "I want the music to be a fellowship. That's what you want from the world as a whole. I want the music to project that kind of togetherness. This idea of fellowship is something I grew up with. I want to extend the good memories."
Acrylic on canvas
36" x 48"
Shipping cost: $120.00

I call my art "Composing with Color". Everyone hears music differently. The way we perceive art is shaped by our taste and by emotions, situations, and personalities. My canvas is the manuscript on which the notes are painted. I have attempted to have music take on physical colors as it travels through air. My ideal vision would be to create a world in colors as Thelonious Monk created a world of sound.
I am a graduate of The Pennsylvania Academy of the Fine Arts in Philadelphia, PA. I have had solo exhibitions in New Orleans, Los Angeles, Miami and Frankfurt, Germany. I have received a grant from the prestigious Pollock-Krasner Foundation and the Artist Fellowship Inc, New York, NY.
George McClements is a New Orleans artist living and working in the Bywater neighborhood.
NEW ORLEANS
Meet the Artists
Local art is the lifeblood of our culture and communities. We source work from hundreds of painters, muralists, sculptors, metal workers, printmakers, illustrators, photographers, and textile artists, every one of whom is part of your local community.

Create your Account
With an account you can save favorite works, create collections, send messages to artists, store your shipping info, and more
---
Already a member? Sign in here

;