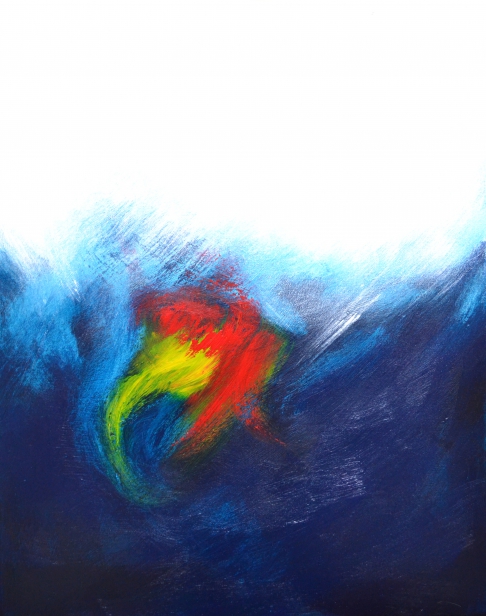 "Transcendence" Homage to Jaimeo Brown
2014
Jaimeo Brown (pronounced jah-mayo) is emerging as one of the preeminent drummers on the new creative music scene. Comfortable in any setting from jazz club to arena concert, Jaimeo began his drum career at age 16 with his father bassist Dartanyan Brown and mother, pianist and woodwind specialist, Marcia Miget, and drum teacher, Sly Randolph, himself a Bernard Purdie protégé from Harlem. A 2001 cum laude graduate of the vaunted jazz program at William Paterson University, Jaimeo's first offer after graduation was to take the drum chair for the Charles Mingus Big Band.
Acrylic on canvas
30" x 24"
Shipping cost: $50.00

I call my art "Composing with Color". Everyone hears music differently. The way we perceive art is shaped by our taste and by emotions, situations, and personalities. My canvas is the manuscript on which the notes are painted. I have attempted to have music take on physical colors as it travels through air. My ideal vision would be to create a world in colors as Thelonious Monk created a world of sound.
I am a graduate of The Pennsylvania Academy of the Fine Arts in Philadelphia, PA. I have had solo exhibitions in New Orleans, Los Angeles, Miami and Frankfurt, Germany. I have received a grant from the prestigious Pollock-Krasner Foundation and the Artist Fellowship Inc, New York, NY.
George McClements is a New Orleans artist living and working in the Bywater neighborhood.
NEW ORLEANS
Meet the Artists
Local art is the lifeblood of our culture and communities. We source work from hundreds of painters, muralists, sculptors, metal workers, printmakers, illustrators, photographers, and textile artists, every one of whom is part of your local community.

Create your Account
With an account you can save favorite works, create collections, send messages to artists, store your shipping info, and more
---
Already a member? Sign in here

;