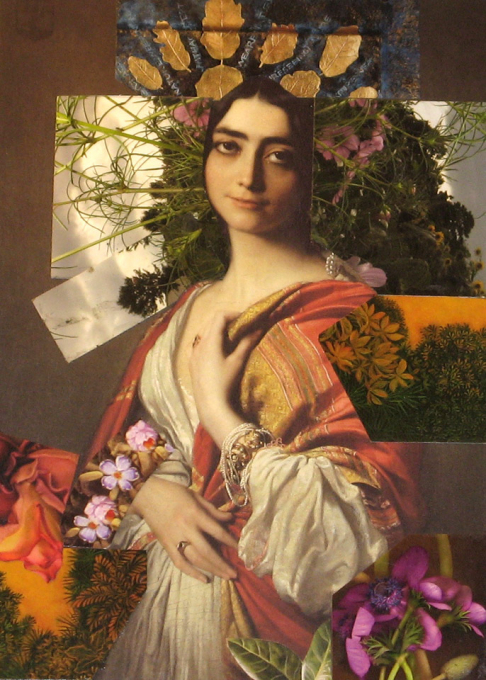 Flora
2017
Flora is the Roman goddess of flowers. I wanted to show the lushness, the fertility, the beauty of woman. Out of this woman comes all life, an abundance of bloom.
Paper Collage
9" x 6"
Shipping cost: $10.00

I have always been an artist, from finger painting in kindergarten, from a Master's degree to this morning, I have always had paint under my fingernails. When I attended Tulane University, I was the first male undergraduate art major at Newcomb College and was fortunate to have Hal Carney as a teacher and mentor who provided me with the example of life as an artist/teacher.
After getting an MFA at Indiana University, I taught painting and filmmaking at Michigan State, University of New Mexico, Towson University, the Maryland Institute of Art and The University of Maryland Baltimore County. I have been a teacher, painter, filmmaker, exhibit designer, and museum administrator.
The quote under my picture in my high school yearbook said: "Art is the secret to life." I believe it and have tried to live it. Art is my religion.
NEW ORLEANS
Meet the Artists
Local art is the lifeblood of our culture and communities. We source work from hundreds of painters, muralists, sculptors, metal workers, printmakers, illustrators, photographers, and textile artists, every one of whom is part of your local community.

Create your Account
With an account you can save favorite works, create collections, send messages to artists, store your shipping info, and more
---
Already a member? Sign in here

;