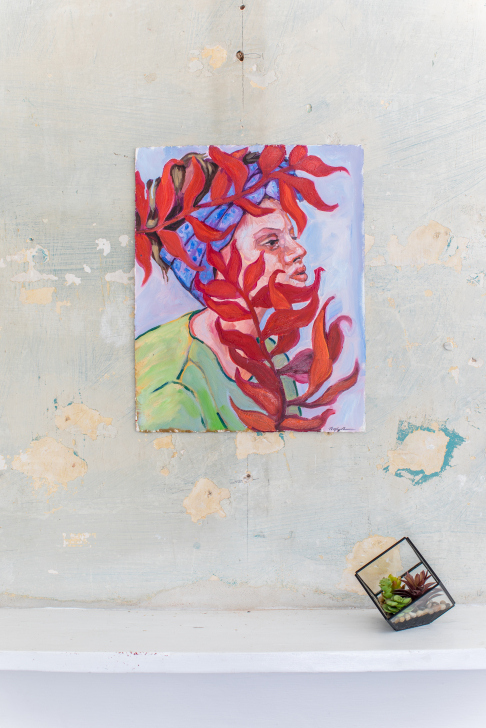 Anna
2017
When you can't escape who you are.
Oil on Arches oil paper. Floated on white mat in white frame.
20" x 16"
Shipping cost: $75.00

I am an artist living and working in New Orleans. I grew up in Baton Rouge, spent a few years working in the Carolinas and finally moved back to finish my BFA from LSU. I'm known for my bright, contemporary and figurative floral paintings. I find inspiration in the tropical flora of New Orleans, the everyday lives of women I know and encounter and images collected along the way. I describe my artworks as  "a dialogue between the vivid surroundings of New Orleans, it's eclectic inhabitants and the mutual influence upon one another."
While at LSU I received the nomination to attend Yale Norfolk and the Baton Rouge Art League's annual scholarship. I spent 6 years as an Artist in Residence at N the Art Space, a studio collective. After graduating I became an Artist in Residence with The Manship Theatre at the Shaw Center for the Arts. I've also worked with other area organizations including The Arts Council of Greater Baton Rouge.
Currently, I teach at Saint James Place Retirement Community as their resident art instructor engaging the residents in art's therapeutic properties. I am also a site manager and artist with the Walls Project several times a year on large scale murals and community beautification events.
NEW ORLEANS
Meet the Artists
Local art is the lifeblood of our culture and communities. We source work from hundreds of painters, muralists, sculptors, metal workers, printmakers, illustrators, photographers, and textile artists, every one of whom is part of your local community.

Create your Account
With an account you can save favorite works, create collections, send messages to artists, store your shipping info, and more
---
Already a member? Sign in here

;