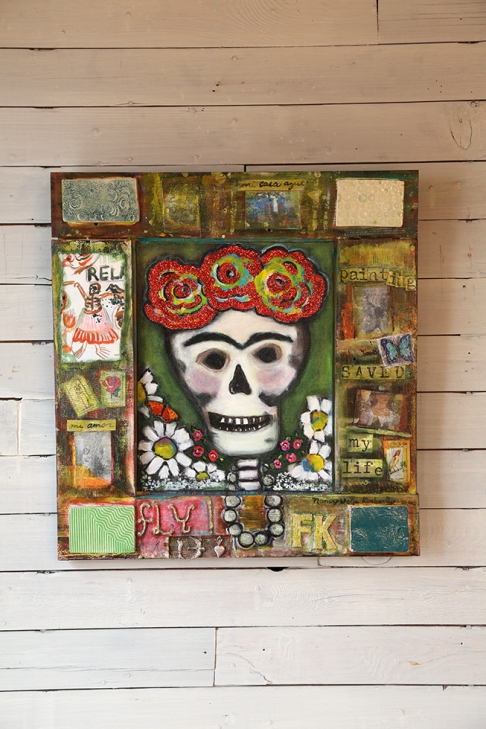 Gator Girl Art
Fly
2012
Famous Mexican artist, Frida Kahlo in the afterlife. This painting is rich with symbols. Starting on the left is a picture reproduced from Frida's journal. I love it, because she is a skeleton in the picture. Under her journal page are loteria cards of a skeleton and a rose. Below that it says, "mi amor" in my best Frida handwriting from studying her journal. Printed on canvas is a picture of Frida and Diego. Up at the top, you can barely see a photo of Frida in the hospital and a photo of her blue house. On the right side of the painting following her clockwise from the house that she loved are the words, "Painting Saved My Life". On this side there pictures that you can slightly see of Frida with her monkey and her parrot. Here, there is a blue butterfly symbolizing her freedom. On the bottom is the word, "FLY". I don't believe Frida would want to Rest In Peace. I nailed 3 milagros under the word FLY that I bought at the mission in Carmel, California. One is her leg that caused her so much trouble, starting with polio when she was a small child and ending with amputation shortly before her death, a bird and a heart. Her initials are covered in gold glitter and paint to symbolize the gold that covered her after the bus accident. Finally, the center of the painting. Hovering above the daisies is an orange and red butterfly symbolizing pain and eventual death that shaped Frida's life.
Acrylic paint and paper on canvas. Framed in reclaimed wood, accented with clay kiln fired tiles.
21" x 20"
Shipping cost: $100.00

Nancy Wolfe Kimberly, aka Gator Girl, is lover of all things New Orleans. New Orleans is her muse. Wherever she looks she is struck visually and spiritually by her surroundings. Whether it is a Mardi Gras Indian in his dazzling suit, an alligator sunning herself along the bayou, or a quiet cemetery in the evening, New Orleans speaks to her heart. When she paints she has two goals, to spread healing energy to the city and to spread the New Orleans attitude of love to the rest of the world. Nancy Wolfe Kimberly is a New Orleans artist living and working in the Uptown neighborhood.
NEW ORLEANS
Meet the Artists
Local art is the lifeblood of our culture and communities. We source work from hundreds of painters, muralists, sculptors, metal workers, printmakers, illustrators, photographers, and textile artists, every one of whom is part of your local community.

Create your Account
With an account you can save favorite works, create collections, send messages to artists, store your shipping info, and more
---
Already a member? Sign in here

;