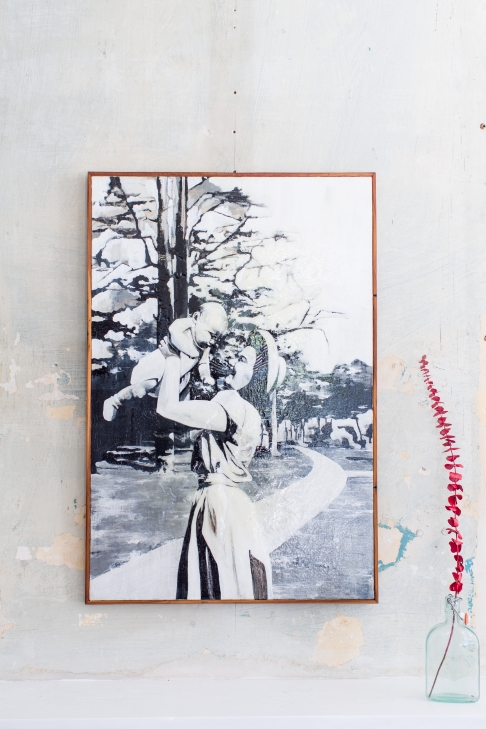 Anaheim, 1949
2010
One day there was a man selling boxes of photo albums at a flea market by my house, and that is where these source images are from. The titles of the pieces are the bits of hand written notes on the back of the photos. That is all I know about them. I purchased the small bag of loose photos, and the people and places do not seem to have anything in common. I find them to be fascinating vignettes into lost strangers lives. By their nature as photographs, each of these source images is inherently still, a frozen relic of an untouchable past. Nonetheless, photography has a special power: pictures, more than any other medium, evoke presence. An unaltered photograph gives to us a space, a person, a landscape that we know to exist, even as we know we can never reach it. These re-compositions utilize the qualities and visual cues found in photography to produce work that is both powerfully emotional and enigmatic. What these paintings seek to preserve from their source material is the sense of presence embodied in the photographs from which they originate. By doing so the pieces attempt to elevate the figures from the merely decorative to beings possessed of psychological interiority.
Acrylic and Charcoal on Canvas
24" x 36"
Shipping cost: $150.00

Originally from the small town of Willits in Northern California, I moved to New Orleans from the Bay Area in 2013. I've always loved to draw and grew up taking art classes--everything from ceramics to modern dance--but it wasn't until my sophomore year in college that I took my first painting course. It was love at first sight and I've been fascinated with the medium ever since. New Orleans has given me the time, inspiration, and community support to paint and I couldn't be more grateful.
NEW ORLEANS
Meet the Artists
Local art is the lifeblood of our culture and communities. We source work from hundreds of painters, muralists, sculptors, metal workers, printmakers, illustrators, photographers, and textile artists, every one of whom is part of your local community.

Create your Account
With an account you can save favorite works, create collections, send messages to artists, store your shipping info, and more
---
Already a member? Sign in here

;