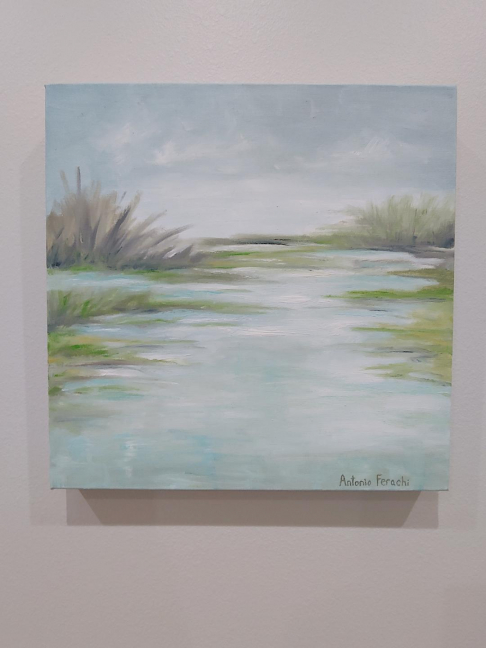 Marsh Skyline 3
oil on canvas

14" x 14"
Shipping cost: $25.00

I am a painter of Louisiana landscapes. My oil paintings are loose and impressionistic in style with bold brush strokes of color. I paint many facets of the Louisiana landscape from the marsh and bayous, cypress and oak trees, sugarcane, birds to its seafood. My mission is to capture the beauty of nature that is around us every day. In a January 24, 2019 feature in The Advocate (Baton Rouge), I was quoted, "I draw from what I see around me every day. The cane fields, bayous, trees, grasses and birds are my inspiration."

I began painting when he was nine years old and have continued to practice my craft ever since. My work has been featured in The Advocate (Baton Rouge) and 225 Magazine. My work has also been showcased in the Baton Rouge Bar Association's Arts Judicata event in 2017, 2018 and 2020. I have received numerous ribbons from the Plaquemine Bank Art Show, Acadian Art Show and West Baton Rouge Library Art Show.

My work is for sale at The Foyer, Cajun Electric and Lighting and Betts Fine Art in Baton Rouge; Where Y'Art Works in New Orleans and at www.antonioferachi.com. My work can be seen on Instagram @antonioferachifineart.
I am a tax attorney in Baton Rouge, Louisiana. I serve as the Director of Litigation and General Counsel of the Louisiana Department of Revenue.


PLAQUEMINE
Meet the Artists
Local art is the lifeblood of our culture and communities. We source work from hundreds of painters, muralists, sculptors, metal workers, printmakers, illustrators, photographers, and textile artists, every one of whom is part of your local community.

Create your Account
With an account you can save favorite works, create collections, send messages to artists, store your shipping info, and more
---
Already a member? Sign in here

;