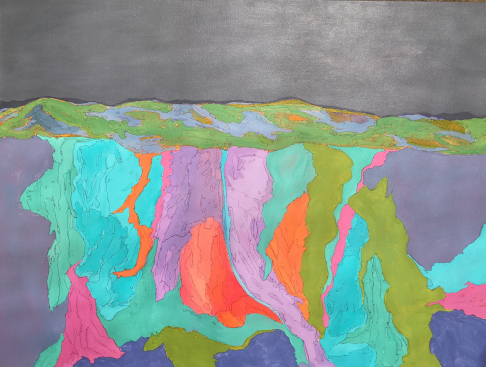 Slice of Earth-Grey Sky
2018
So many treasures are under the surface of the crust. Water, beautiful stones, fire, caverns and much that has yet to be discovered. My paintings draw on this yet to be discovered underworld.
Acrylic on canvas
30" x 40"
Shipping cost: $200.00
Finally! I get to live my passion. My undergraduate degree is in art (jewelry and metalsmithing) from Eastern Illinois University and after more courses in interior design from Colorado State University, I had a successful practice for many years in interiors. I have worked on amazing projects throughout my career that have greatly influenced my aesthetic. Travel from China to Russia to Singapore to Norway and many places in between has also expanded my knowledge and love of art. All the while I have been taking workshops from individual artist and courses at CSU to try to fill my soul with art.
NEW ORLEANS
Meet the Artists
Local art is the lifeblood of our culture and communities. We source work from hundreds of painters, muralists, sculptors, metal workers, printmakers, illustrators, photographers, and textile artists, every one of whom is part of your local community.

Create your Account
With an account you can save favorite works, create collections, send messages to artists, store your shipping info, and more
---
Already a member? Sign in here

;