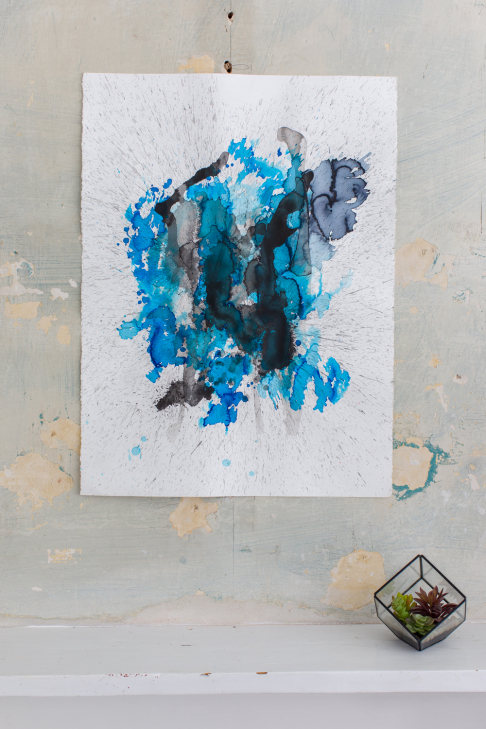 Inkblot
2020
This is a rorschach test. What do you see?
Chinese ink and watercolor on paper 
22" x 30"
Shipping cost: $50.00

I am a New Orleans native and have been surrounded by different art forms my entire life. Through the cultural influence of the city, I have used visual arts to explore the themes of mental health and experiences of minorities in modern day America. While attending Xavier University of Louisiana, I studied closely under artists Ayo Scott and Ron Bechet, implementing the use of audacious color palettes and automatic drawings into my work. Basing my work primarily in abstraction, my compositions aim to incorporate elements of nature, the human form, emotions, and their relationships. By combining intuitive creation and strategic arrangement, the compositions are able to display the beauty of chaotic forms and their interactions. This general theme formed naturally throughout my early stages of painting and has transferred to different mediums.
My work's based primarily in acrylic paint, watercolor, and Chinese ink, are constructed in layers. Each wash is allowed to interact freely with its material and is adjusted through a meditative process of improvisation. This careful arrangement of various layers invites the viewer to dive deeply into each piece and reflect on the suggested themes.
NEW ORLEANS
Meet the Artists
Local art is the lifeblood of our culture and communities. We source work from hundreds of painters, muralists, sculptors, metal workers, printmakers, illustrators, photographers, and textile artists, every one of whom is part of your local community.

Create your Account
With an account you can save favorite works, create collections, send messages to artists, store your shipping info, and more
---
Already a member? Sign in here

;