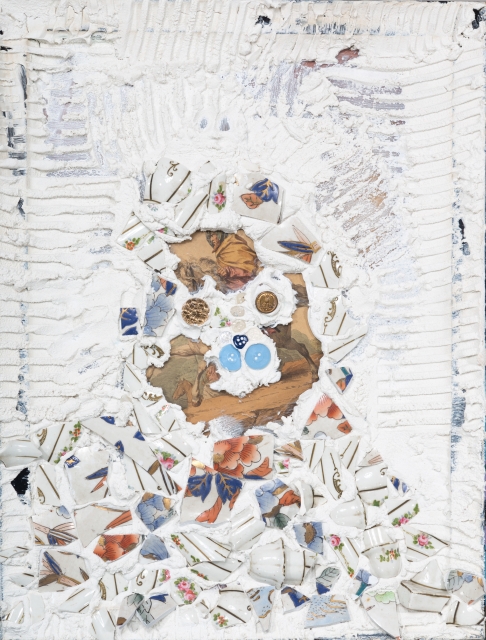 Land Before Time I
2017
rhubarb pie
Mixed media on glass
20" x 15.25"
Shipping cost: $150.00

I approach my work with spontaneity, quickness, and—when I chance upon it—wit. The emotion or atmosphere of the day influences the work, and the images that result are a story of myself. Am I telling the same story over and over? Am I telling new stories? I have not figured it out exactly. But the unknown, that not knowing, is rooted in the nature of any experiment, and I am deeply interested in experimentation: how burnt paper or dirt can produce an unexpected image. What I know, for now, is that the works are both simply and not so simply works of myself, meaningless and meaningful as any emotion can be when rendered as an image.
My process is often very fast as I paint my way through these emotional landscapes and atmospheres. At the end of a day, I can sift through a pile of images, swift as a river, and see what catches my eye. In those moments, it is the subconscious mind that is in control; it is the subconscious mind that has recorded and understood everything I have done in my life. This fluidity, this flow, is essential to my work—and the mediums I choose to employ are derivative of that fluid nature. Paint is one, though there are many others. I can press on charcoal, ink, motor oil, dirt, blood, or urine—anything that will readily flow—and, through experimentation, produce new colors, new images, the work will expand beyond what has previously been expressed. When a tree is growing and expanding, it doesn't grow straight up or down. And my paintings grow exactly how they want to grow—all over—which seems utterly natural. This is the flow I hope to capture in my work: a reflection or an echo of a subconscious, our second nature, the stories we recall when we let ourselves drift.
NEW ORLEANS
Meet the Artists
Local art is the lifeblood of our culture and communities. We source work from hundreds of painters, muralists, sculptors, metal workers, printmakers, illustrators, photographers, and textile artists, every one of whom is part of your local community.

Create your Account
With an account you can save favorite works, create collections, send messages to artists, store your shipping info, and more
---
Already a member? Sign in here

;